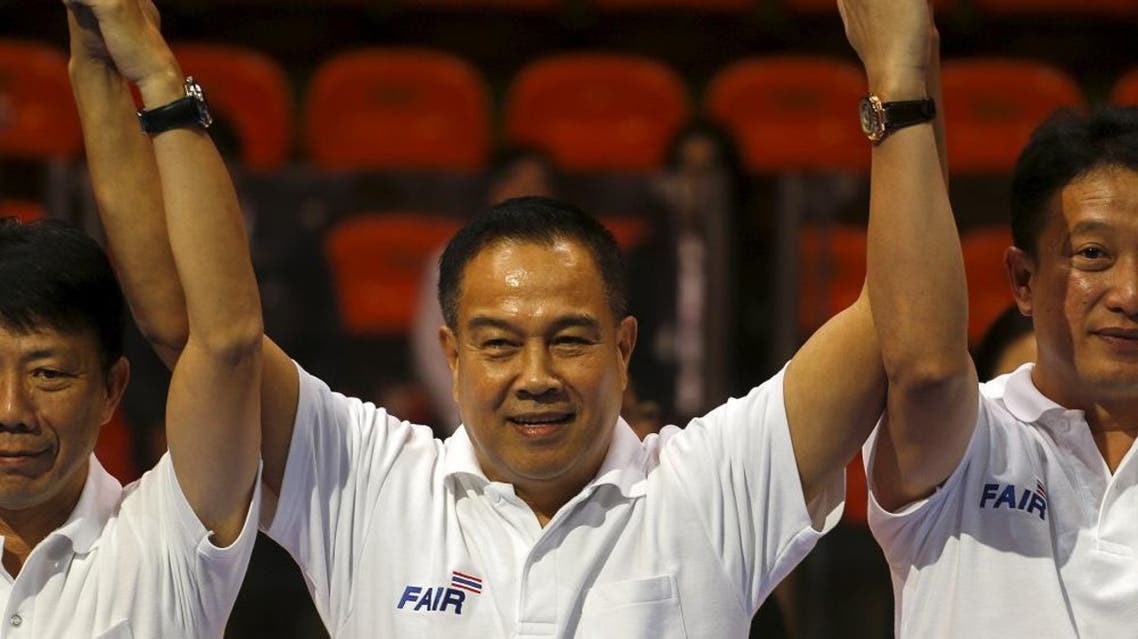 Ex-top cop wins Thai FA presidency
An ex-police chief was elected as president of the Football Association of Thailand
A colorful ex-police chief backed by Leicester City's billionaire owners was elected Thursday as president of the embattled Football Association of Thailand, in a vote prompted by the suspension of the scandal-mired former boss.

Somyot Poompanmoung, a straight-talking officer known in the kingdom for leading a crackdown on police corruption and declaring his assets at more than $11.5 million when he became the country's top cop, scooped up 62 of the available 72 votes from football clubs and officials.

He was the frontrunner in a rowdy and often acrimonious campaign that brought to light massive public discontent with the game's administrators in the football-mad country.

"We will keep our promises and our work will be transparent," Somyot told reporters after the landslide vote, adding that a FIFA representative congratulated him on "joining the football family."

Somyot, 61, was supported by a number of big Thai football clubs as well as his friend Vichai Srivaddhanaprabha, the billionaire owner of table-topping English Premier League outfit Leicester.

He succeeds Worawi Makudi, a former FIFA insider and Thai football's Teflon man who for years fended off endless scandals with lawsuits and bravado.

Worawi, a FIFA executive committee member for 18 years until last May, could not run in Thursday's election after being suspended by the game's governing body over an alleged breach of its ethical code.

He denies any wrongdoing.

Instead, Worawi is widely believed to have backed former Thai national team coach Charnvit Pholchivin, who on the big day received just four votes.
Squabble
Other candidates included Nataphol Teepsuwan, chairman of Bangkok FC, also an ex-policeman and a Football Association of Thailand (FAT) administrator.

"After today's election, I want everyone to work together and hope the conflicts will disappear so Thai football can move forward," Nataphol told reporters ahead of the vote.

Observers say the squabble within Thai football mirrors the junta-run country's recent political quarrels, where elections have simply been ignored or annulled by powerful elites.

Worawi's rivals pilloried his tenure, while the candidates questioned each other's eligibility to run the game.

There were also attempts to suspend the election, the last one rejected by a court late on Wednesday.

The jocular Somyot, who enjoys a kickaround and recently told AFP "he always wins", has vowed to clean up the sport, allocate funds fairly and raise refereeing standards.

He wants to establish a national level academy system and says his links with Leicester City will help boost the quality of Thai coaches and backroom staff.

Somyot, who was appointed after a 2014 coup, is tipped to pursue a career in politics once elections have been restored to the military-run country.

Sport is a lever to power in the spin-dryer politics of Thailand.

The owner of one of Thailand's best clubs, Buriram FC -- who also backed Somyot -- is a powerful former politician.

A football fan who attended the vote said he was desperate for Somyot to win.

"I want sincere people to run the game so that all problems can be cleaned up and Thai football can reach a better standard," Jakphol Lakthong told AFP.

Worawi was a long-time ally of the shamed suspended FIFA chief Sepp Blatter.

But he has finally been sidelined, a victim of heightened scrutiny by FIFA since a corruption scandal billowed out of the governing body's Zurich headquarters last year.

While heading the FAT he faced down fraud and bribery allegations, as well as a petition by tens of thousands football fans urging Thailand's junta to kick him out.