Video: Algerians cheer against own football team for Palestine
Algerian fans erupted in joy when Palestinian player Ahmad Abu Nahia scored for his team in the 62nd minute
In a scene not too often the norm in sporting events, the Algerian fans were seen cheering for the Palestinian football team during a friendly game against their own country.
The friendly game was played between the Algerian Olympic football team and its Palestinian counterpart on Wednesday at the 5 July stadium in Algiers.
Algerian fans erupted in joy when Palestinian player Ahmad Abu Nahia scored for his team in the 62nd minute.
At least 80,000 fans were reportedly in attendance for the game.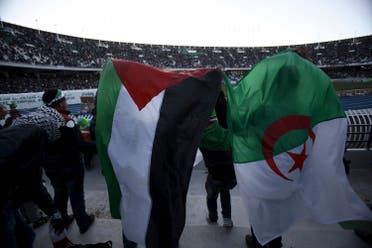 An Arabic version of this article is available on alarabiya.net.