Egypt's Al-Ahly has the energy to nab African Champions League title
Al-Ahly, the current Egyptian Premier League leaders, swooped for their 12th change of management in five years
The recent invasion of foreign coaches, with experience in Europe's top leagues, has altered the dynamics in the Egyptian Premier League. Zamalek appointed Alex McLeish, the former Rangers, Scotland and Birmingham City manager who has earned his stripes in the English Premier League and Champions League.
But Cairo rivals, Al-Ahly, the current Egyptian Premier League leaders, swooped for their 12th change of management in five years, as Martin Jol was confirmed as the club's new coach. The Dutchman, who has previously coached at Ajax, Hamburg and Tottenham, signed an 18-month-deal and works outside of Europe for the first time in his career.
For the 60-year-old, it's a surprising move given his age and the intense demands in the Egyptian capital. Speaking to the Dutch media, he said: "I was told in England that the club had 40 million fans, then someone at my hotel said 70 million. That's impressive!"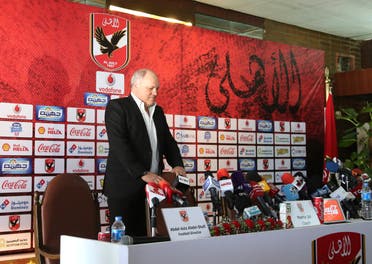 Jol isn't the first coach to find Al-Ahly an attractive proposition. Several European coaches in recent seasons have moved to Northern Africa, but then eventually left after disputes with club management. Cairo rivals Zamalek were locked in legal battles with Portuguese coach Jesualdo Ferreira when he resigned from his post last year.
McLeish and Jol are hardly world-class appointments, but it's a last chance for Egyptian football to remain attractive to out-of-work managers. If the country's clubs hadn't already burned ties with Spain and Portugal, this is the chance to look professional and structured to English and Northern European coaches.
A cushion to build on
However, stability isn't exactly something associated with Egyptian football. The country's Premier League was shut down entirely in 2012 following the Port Said disaster which claimed the lives of 74 football supporters. At the height of political upheaval, this horrific tragedy in the milieu of a football stadium, a traditional place of euphoria and camaraderie, was particularly touching.
Foundations aren't laid promptly after incidents like this. Although Al-Ahly managed to enjoy domestic and African Champions League success amid political turmoil, the club's reputation was being damaged as a result of its location. But things have started to change: infrastructure is being maintained and what seemed like ever-present political statements at football matches have diminished.
Al-Ahly has since looked to assert itself once more as the country's top team. Unable to find a replacement for Juan Carlos Garrido in May, Fathi Mabrouk guided the side through pre-season and the first few months of the season. Abdul-Aziz Abdul-Shafi stepped into the hotseat in October as a temporary option, and he was back in in January, following the short-lived tenure of Jose Peseiro, an unpopular appointment by the club's hierarchy.
Top of the Egyptian Premier League, six points ahead of Zamalek after 21 games, Jol has the luxury of a comfortable lead as he looks to familiarise himself with the first-team squad. The experienced coach, an impressive tactician with questionable man-management skills, won't have much time on the training pitch until the international break at the end of March.
Yet that's perhaps an advantage for the coach and club. There's little hunger for a new philosophy midway through the season with the Champions League hotting up. Jol, for the most part, will be given the freedom to tinker and offer advice to his mainly homegrown squad, while revolutionising the club's setup can certainly be put to one side until the close season.
African success
Attention returns to the CAF Champions League on Friday November 11 when the Cairo-based club battle Recreativo de Libolo of Angola. The Champions League is part of the fabric of Al-Ahly, like the European version is intertwined with Real Madrid's illustrious history. Eight-time winners and the most successful side on the continent, Al-Ahly
As reported by Ahram Online, Jol has named a 20-man squad for the trip on Wednesday with striker Emad Meteb missing through injury, while hugely-experienced goalkeeper Sherif Ekramy has picked up a hamstring injury. Amr El-Solaya hasn't been registered with CAF, the governing body of African football.
The Egyptians will expect a strong push for the Champions League title, with resources and squad quality dwarfing the vast majority of African opponents. It's an unforgiving tournament, as well, with potential knockout round matches and energy-sapping away matches expected. Perhaps with Jol's