Algerian Mahrez honored for lighting up Leicester's season
Claudio Ranieri recognised that the individual who has lit up his side most brightly is the 2016 PFA Footballer of the Year, Riyad Mahrez
Leicester City manager Claudio Ranieri mused on Sunday that, if he had his wish, every one of his wonderful squad would have been honored as Player of the Year at the Professional Footballers' Association awards night.
Yet even at the heart of a side whose trademark is its team spirit and collective ethos, the Italian coach recognized that the individual who has lit up his side most brightly is the 2016 PFA Footballer of the Year, Riyad Mahrez.
"He is fantastic, Riyad is our light. When he switches on, wow, Leicester change color! That is the truth," Ranieri had enthused earlier in the week.
So it seemed appropriate that on the day he was honored by his fellow professionals the Algeria forward should illustrate what Ranieri was saying before flying to London for the ceremony where he became the first African to win the award.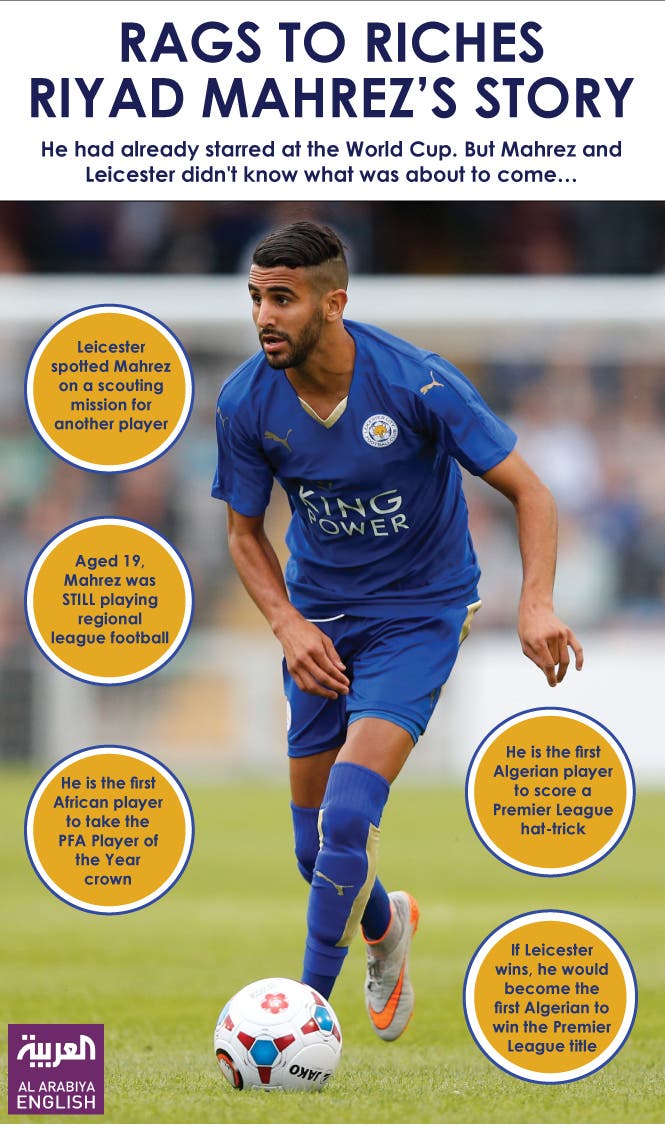 Needing a touch of his magic against lowly Swansea City, Mahrez produced some of the wizardry that has been such a regular delight from a man who, at the season's start, was seen more of an unsung journeyman than a magician.
Receiving a booted clearance from Swansea captain Ashley Williams just outside the box, Mahrez took advantage with smooth calm, first feigning to curl his shot into the far corner before eyeing a gap at Lukasz Fabianski's near post and firing home.
The King Power Stadium changed color, all right. Leicester were on their way to a 4-0 win which puts them on the verge of a fairytale title win -- and not for the first time this season, it was the 25-year-old Mahrez who had been the game changer.
Jamie Vardy has been sensational and N'golo Kante's midfield engine has never stopped purring. Yet it is Mahrez, with his artistry and will o' the wisp skills delivering 17 league goals and 11 assists, who has felt like the rarest of finds.
It seems an unthinkable bargain now that he should have only cost Leicester 400,000 pounds ($577,000) in 2014 when he joined from Le Havre. The suggestion now is that it would cost Europe's elite nearly 80 times as much for his signature.
Silenced doubters
There were moments before Mahrez came to England when even his close family and friends feared he would be too slight for the physical rough and tumble of the Premier League.
However, his heroics at Leicester have not been the first time he has proved people wrong.
Born in the impoverished northern Paris suburb of Sarcelles to an Algerian father and a mother of Algerian and Moroccan descent, Mahrez was a naturally gifted ball player but ignored by scouts from the big teams because he seemed so skinny.
He joined Ligue 2 Le Havre as a teenager, a good choice at a club which also nurtured rare talents like Juventus midfielder Paul Pogba and West Ham United's Dimitri Payet, a fellow contender for the PFA award.
"I never listened to them," Mahrez explained in a recent interview with the Daily Express, when asked about the times he was written off as being too lightweight in those early days.
"I had confidence in my quality, so I was always positive. I always had this talent, it's something you get when you are born so I have just worked and it has gone well for me.
"Maybe I had a few doubts. For one second, never for longer," he added. "But it has helped me at times, like the beginning of the season, when everyone was saying Leicester were going down and that last year we were lucky to stay up.
"It only gives us more power, more motivation to do well."
Without question, the drive and ambition of the willowy kid who many thought would never make the grade now stands as a symbol of Leicester's own wonderfully improbable rise.