Real Madrid mourns for soccer fans killed by ISIS
ISIS gunmen killed at least 16 Real Madrid fans at a supporters club in Iraq on Friday
Real Madrid revealed their anguish after supporters were massacred in a terrorist attack at one of the club's supporters groups in Iraq.

ISIS killed at least 16 people – who were Real Madrid fans – in a cafe north of Baghdad on Friday.

Three gunmen armed with AK-47's opened fire around midnight at the Al Furat cafe in the predominately Shi'ite Muslim town of Balad. ISIS later claimed responsibility as pictures and videos emerged illustrating the bloody aftermath.

"A group of Islamic terrorists, from Isis, came into the cafe armed with AK-47s, shooting at random at everyone who was inside," president of the Samarra supporters club, Ziad Subhan told Spanish newspaper Diario AS.
"They don't like football, they think it's anti-Muslim. They just carry out attacks like this. This is a terrible tragedy".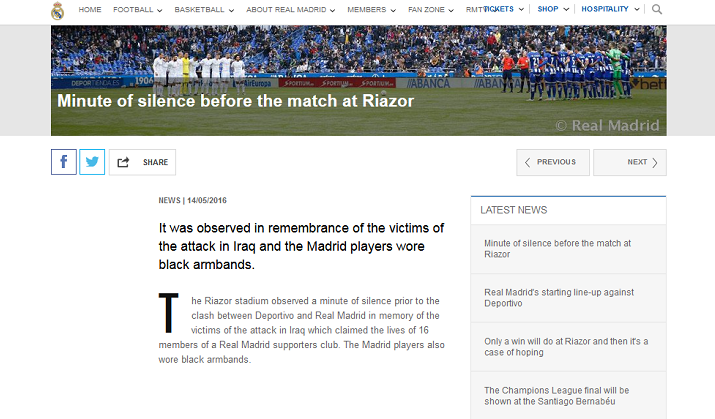 Real Madrid later announced on their official site that a black armband would be worn by their players for their away game against Deportivo as a profound sign of mourning and respect.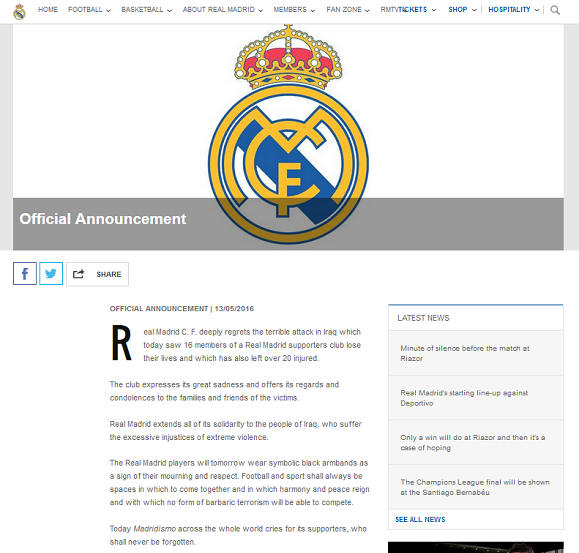 In March, a suicide bombing took place at a youth soccer match south of Baghdad killing 26 people and wounding 71 others.