Real Madrid may be Champions League winners, but European legends?
Of all Real Madrid's 11 European Cup triumphs, this was their least impressive
Having done it a record 11 times before, the sight of Real Madrid lifting aloft the European Cup - club football's most prestigious prize - was a familiar one. No club is as synonymous with continental success as Los Blancos. Saturday's Champions League final in Milan provided them with another ticker-tape triumph.
But their glory wasn't so glorious this time. While Zinedine Zidane and his players undoubtedly savored their penalty shootout win over city rivals Atletico Madrid, claiming a European title for the second time in three years, their victory was tempered by a sense of pragmatism.
Of all Real Madrid's 11 European Cup triumphs, this was their least impressive. If the Champions League is designed to anoint club football's best team any given season, something has gone wrong because Zidane's side cannot consider themselves to be anywhere near that standard.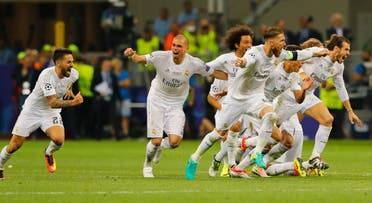 At present, Real Madrid are a club in transition that just so happened to stumble across the biggest prize in the sport. Not so long ago they dismissed Rafael Benitez as their manager with club president Florentino Perez planning a dramatic overhaul of the playing squad this summer. Big chance were afoot at the Santiago Bernabeu.
They might still be, despite what happened at the San Siro on Saturday night. It is quintessentially Real Madrid that after winning the Champions League some of their biggest and best players could be sold off this summer, with James Rodriguez and Isco in particular expected to be on their way out of the club before the start of the 2016/17 campaign.
Change might be more fundamental than that, though. Karim Benzema has reportedly been earmarked for replacement, as Perez looks to rejuvenate his club's attacking frontline. Robert Lewandowski, Pierre-Emerick Aubameyang and even Romelu Lukaku have been linked with a switch to the Spanish capital, suggesting Benzema could make way.
Real Madrid also have a decision to make regarding the future of Cristiano Ronaldo, arguably the greatest player in the club's history. The Portuguese player, along with Lionel Messi, has come to define this era of football, but at the age of 31 signs of decline are starting to creep into his game.
Last chance?
This summer could present them with the last chance to demand a truly top-tier - maybe world record - fee for Ronaldo, with Manchester United and Paris Saint-Germain both desperate to see the winger in their colours. If Perez is intent on comprehensive change then maybe Ronaldo should be concerned for his place at the club over the next few weeks and months.
Saturday's Champions League success is somewhat out of sync with what Real Madrid are as a club right now. There are a lot of moving parts at the Bernabeu, with head coach Zidane one of them. The Frenchman might be a club legend but he is still to prove himself as a manager even after beating Atletico Madrid in Milan.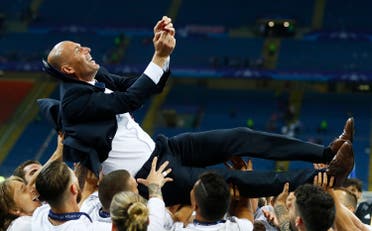 That provides the perfect paradoxical snapshot of Real Madrid's season. There are a lot of questions without answers at the club, with their Champions League win a triumph that wasn't meant to happen. This season was meant to be one of crisis, and yet they finished it my making history in the most dramatic of circumstances against their closest rivals.
Two years ago, when Carlo Ancelotti led Real Madrid to an extra-time win in Lisbon, the Spanish capital club were widely considered the best in Europe. The same goes for Barcelona last year, as Messi, Neymar and Luis Suarez underlined their quality by blowing away the rest of the competition. This Real Madrid side won't count themselves among such company, though.
Instead Zidane is now charged with building a dynasty on the back of their victory in Milan, and that is archetypal of Real Madrid as a club. Never content with what they have, Los Blancos want and expect more than just Champions League glory.