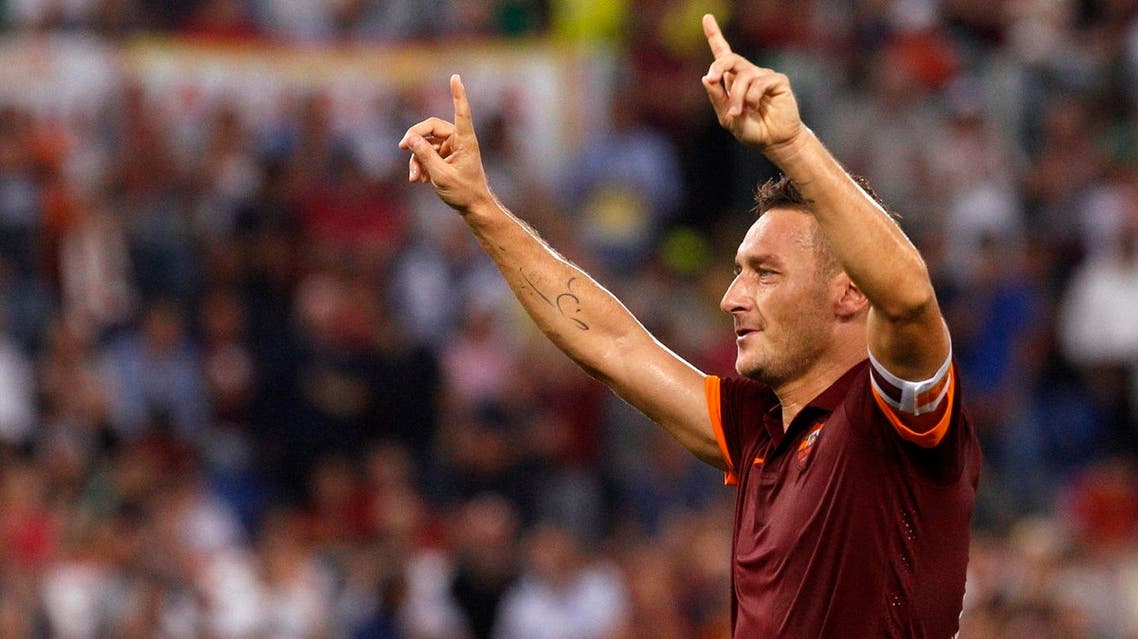 Francesco Totti to play a 25th season - his last - at AS Roma
Totti was a World Cup winner with Italy in 2006 although his medal collection at Roma is relatively modest
Francesco Totti will play a 25th season at AS Roma, taking him past his 40th birthday, after the playmaker extended his contract with the club for another year on Tuesday.
"I really wanted this contract, it represents the fulfilment of my dream," Totti told Roma's website following the official signing. "I always wanted to end my career having only worn one shirt – the Roma one."
Totti joined Roma as a 12-year-old in 1989 and made his professional debut in March 1993, aged 16, when coach Vujadin Boskov brought him on as a substitute against Brescia.
Since then, he has played under 16 different coaches at the club and made his 600th league appearance near the end of this season against Chievo.
Revered by fans for his loyalty, he is Serie A's second all-time leading scorer with 248 goals, still an agonising 26 short of Silvio Piola's record of 274.
Totti struggled for much of this season and publicly complained at a lack of playing time when coach Luciano Spalletti, who took over in January, repeatedly left him out of the team.
However, he rebounded towards the end of the season, scoring four goals in four matches after Spalletti began to use him as a substitute late in the game.
His most dramatic entrance was against Torino where he came on in the 86th minute to score twice and give his side a 3-2 win.
"No one has played more games or scored more goals for this football club than Francesco Totti and we're delighted that he will continue for one more season," said club president James Pallotta.
"He's earned this contract and now we want Francesco's final season on the pitch to be the start of a new era of success for AS Roma."
Totti was a World Cup winner with Italy in 2006 although his medal collection at Roma is relatively modest, consisting of one Serie A and two Coppa Italia titles.