Meet the UAE female runners aiming for breakthrough performances in Rio
The two Ethiopian-born runners went to last year's Athletics World Championships in Beijing with high hopes of producing strong performances
The UAE may only have 13 participants at the Olympics in Rio, but for two of those at least, the time has finally come to prove themselves amongst easily the toughest fields they have ever come up against.
Alia Saeed and Betlhem Desalegn have been a feature of Emirati athletics for several years now, and despite continuous improvement and some regional success, both will travel to Brazil with a major point to prove.
The two Ethiopian-born runners went to last year's Athletics World Championships in Beijing with high hopes of producing strong performances, maybe winning medals or at least producing personal bests.
The reality proved harrowing as both limped out of their competitions meekly, in Saeed's case quite literally.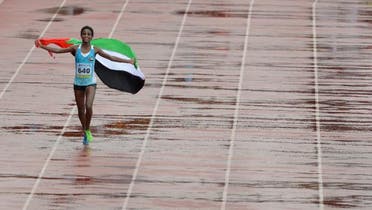 Despite running at the front of the field for the majority of the race, Saeed's competition came to an end as she failed to finish the women's 10,000 metres final after a positive start.
As the race approached its final stages, Saeed struggled to keep up with the pace and dropped to the back of the filed, eventually admitting defeat in her quest for glory as she retired from the track on the three quarter mark, before Kenyan Vivian Jepkemoi Cheruiyot claimed gold.
Her withdrawal was later attributed to a recurrence of a leg injury she had picked up in training, but it still left Ahmed Al Kamali, president of the UAE Athletic Federation and Saeed's mentor, majorly frustrated.
Meanwhile friend and training partner Betlhem Desalegn failed to reach the final of the 1,500m after finishing in a 10th place in a semi-final field of 11.
Earlier she had finished fifth in her heat raising hopes of a final appearance, but against a world class field her inexperience at this level proved costly.
The Olympics now provide a fresh start for both runners at the same distances, an opportunity to banish the nightmare of Beijing.
While the competition in Rio will be the toughest runners have experienced since joining the UAE Athletics team, both Saeed and Desalegn have enjoyed considerable success at international level before.
Saeed has claimed 10,000m gold medals at the 2014 Asian Games in Incheon, South Korea, and again last year at the Asian Athletics Championships in Wuhan, China. Meanwhile Desalegn, who took part in the 2012 Olympics in London, has won gold medals at 1,500m and 500m at both the 2013 and 2015 Asian Championships.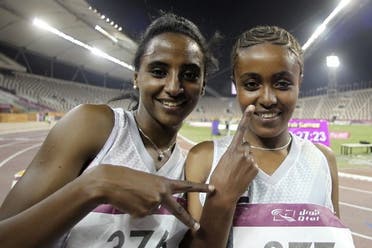 They will hope that those wins, as much as the tough experiences in Beijing, will come in handy in Rio.
For Desalegn at least, the build up to Rio has not gone as smoothly as she would have hoped. The 24-year-old was injured while running in Belgium only weeks ago, putting her participation in the Olympics at risk.
No doubt, will be given every opportunity to recover in time for her first heat scheduled for Saturday, 13 August. Ahmed Al Kamali, president of the UAE Athletics Federation, has been a tireless supporter of both runners and his fatherly approach to dealing with the introverted pair has often kept the pressure off their young shoulders, ensuring they can focus on their training and competitions with little distraction from the press.If Desalegn takes part, then it's safe bet that she would be physically and mentally ready for the challenge of reaching the final.
There are no such issues for 25-year-old Saeed as she prepares for the one-off 10,000m race on Friday, 12 August.
Free from injury and focused after an intensive preparation period in Europe, she will be hoping to improve on her personal best time having already posted the world's 11th fastest this year.
Al Kamali has consistently championed Saeed – as well as Desalegn – and a medal for her at 10,000m in Rio in particular, will vindicate his faith in young Emirati runners' ability to compete with the world's best.