Egyptian swimmer reveals why she won't walk in Rio's opening ceremony
Farida Osman has taken a self-imposed social media hiatus and will voluntarily skip Friday's Opening Ceremony in favor of an early night
Nobody can question the commitment of Farida Osman. The Egyptian swimmer is so focused on representing her country to the fullest at this month's Olympic Games in Rio de Janeiro she has taken a self-imposed social media hiatus and will voluntarily skip Friday's Opening Ceremony in favor of an early night. Yet even when she tries to relax she invariably finds herself swimming.
Osman, 21, arrived in Rio de Janeiro on Sunday ("the place has a really nice vibe"), checked into her apartment in the Olympic Village ("my bathroom is working fine — so-far-so-good") and headed straight for the practice pool for training ("I still have to do the socializing thing"). When she finally found some down-time, she went to the on-site Entertainment Lounge with friends only to end up playing Mario & Sonic at the Olympic Games on the Wii — cue a frantic waving of the arms to try to win a 100m freestyle race.
The California resident might have lost at Mario, but she is more confident of getting results in the 100m Butterfly heats on Saturday morning, which is why she has reluctantly decided not to join the other 123 athletes in Egypt's delegation for the traditional pre-Games parade at the Maracanã stadium. Having contested the London Olympics four years ago, she knows what she is missing.
"Because I start on Saturday, I won't be walking in the Opening Ceremony, which is kind of disappointing," she told Al Arabiya English. "It's obviously a special moment, but I will watch my guys on TV and keep on cheering. Honestly, I really want a final in one of my races so I need to rest — I know the ceremony can take a lot out of you."
Osman's training for London 2012 was hampered by the fact Egypt was experiencing the Arab Spring revolution and she has since recalled brief trips to the pool that would need to be completed before the curfew and training without a coach. She told ESPN last year that she remembers walking to Tahrir Square to protest with her friends for change. "My family wanted me to be part of that because they wanted me to realize what the people are fighting for," she said.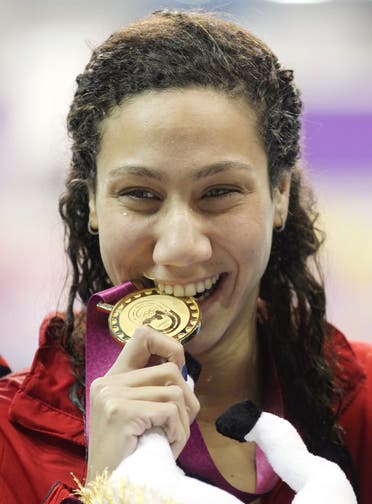 In London, she finished 41st in the 50m freestyle and, a year later, became the first Egyptian to reach a World Championships final when she placed seventh in the 50m fly in Barcelona. One member of her country's delegation this week referred to her now as "the face of swimming in Egypt" while Nada Al Bedwawi, an 18-year-old UAE swimmer debuting at this month's Games, calls her "my role model".
With Osman's preparations for Rio 2016 having been entirely more stable and structured than four years ago, there is a curiosity to see just how much faster she can get. After London, she moved to the United States to swim at the University of California, Berkeley, where she trained and competed alongside four-time Olympic gold medallist Missy Franklin. Although struggling initially with the change in culture, surroundings and study-swim balance, she eventually came into her own, winning the award for Most Improved swimmer in 2014 and 2015.
On Saturday she will come up against Canadian teammate Noemie Thomas and is looking forward to trying to get one over her friend. "There is absolutely a friendly rivalry there, so when we're competing against each other it'll be interesting" she says. "We always give ourselves a hard time — that's why we're teammates."
Yet whatever happens, don't expect to see her tweet about it. Osman announced on Instagram (@Farida_Osman) before boarding her flight to Rio that "in order to perform at my best" she is minimizing her social media presence. The post quickly racked up more than 1,000 likes and countless messages of good luck. Not that she will have likely read them yet.