Syria's Rami Anis: From floating in the Mediterranean to swimming in Rio
Along with 10 other athletes, Anis will walk behind the Olympic flag and represent Team Refugees, a first for the games
While most Olympic swimmers were training hard in the pools of their home cities last year for the Rio Olympics, Syrian swimmer Rami Anis was braving the dangerous waters of the Mediterranean Sea to escape the bloodshed and barrel bombs of his home city Aleppo.
Anis will now get a chance, albeit a slim one, at Olympic glory as he takes the starting stand with the likes of the most decorated Olympian Michael Phelps.
Unlike Phelps, however, Anis will not be marching behind the Syrian flag during the opening ceremony on Friday.
Along with 10 other athletes, he will walk behind the Olympic flag and represent Team Refugees, a first for the games.
They will represent more than 60 million refugees worldwide, the highest total since World War II, according to the U.N. Refugee Agency.
Aleppo to Rio: A perilous journey
Anis's journey from Aleppo to Rio de Janeiro has not been easy. In order to escape Syria, his family decided to cross the border into Turkey.
In 2015, as a wave of refugees streamed across the Mediterranean for Europe, Anis and his brother undertook the same perilous journey on a boat, whose motor stopped and nearly capsized at one point.
They landed safely in Greece, then embarked on an epic overland journey through Macedonia, Serbia, Croatia, Hungary, Austria, Germany and finally Belgium.
"I had to leave Turkey because I was being given a chance to compete on international events at the club I was training at," Anis told Al Arabiya English by phone from Rio.
Before the Syrian war, he was considered a specialist in the 100-meter butterfly, and began competitive training at age 14.
As part of Syria's national team, he traveled to compete in the Gulf, China and Europe. He was considered a prospect to represent Syria during the London 2012 games.
For four years, Anis trained while taking refuge in Turkey. He was not allowed to compete formally alongside his club's teammates in Turkey, who flew to other countries for swimming meets while he was forced to stay behind in Istanbul.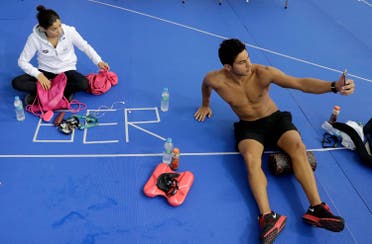 "It was very difficult these past couple of years. I started swimming from a very young age, and had many prospects of representing Syria internationally. Then the war happened," he said.
"It was difficult seeing other swimmers achieve their dreams and compete, while I was stuck and the prospects of my future looked bleaker by the day."
Asked to recount the events of taking a dinghy from Turkey to Greece, he politely refused. "I'm an athlete, not just a refugee, and the athlete's psychological being is the most important thing. What happened, happened. I'm in Rio now, and the focus is on positive things and the future."
Future prospects
Now living in Belgium, Anis was rediscovered swimming in the city of Ghent, where he was taken in by Carine Verbauwen, who was an Olympian during her teens.
Come Aug. 9, Anis will compete in the men's 100-meter freestyle, and a couple of days later for the men's 100-meter butterfly. His goals are realistic: to beat his personal record of under 55 seconds.
"Team Refugee is focused on proving itself for future championships after the games. We're here to show the world that we deserve to compete, and hopefully get assistance from organizations such as the International Olympic Committee [IOC] and FINA [the international governing body of swimming]," he said.
"At the same time, we are aware that we are representing 60 million refugees around the world. My fellow Syrian swimmer (Yusra Mardini) are also representing the broken Syrian people who have faced widespread injustice these past few years," he added.
While the past few days have been grueling, Anis has had multiple run-ins with athlete-celebrities, including Spanish tennis champion Rafael Nadal.
Anis said Nadal was really approachable, and it was interesting to see all athletes being treated equally in the Athlete's Village.
"You turn left and you see a champion, and you turn the other way and another one appears. It's exciting seeing all these great champions and all of us dining and living in the same halls," he said.
Asked whether he has run into his swimming idol Phelps, Anis replied: "I saw him walk by the other day. Sadly we don't have a picture yet, but I'll try."