United States wins 1,000th Olympic gold medal
Of the 1,000 gold medals, more than half have come from the combined efforts of competitors in track and field (323) and swimming (246) events
The United States won its 1,000th Olympic gold medal on Saturday when the American women swimmers won the 4x100 meter medley relay at the Rio Games.
The honor of reaching the milestone was shared by Kathleen Baker, Lilly King, Dan Vollmer and Simone Manuel, who got to the wall first ahead of arch-rivals Australia.
"One thousand gold medals is a remarkable achievement made possible by the culture of sport that is the fabric and foundation of Team USA," United States Olympic Committee (USOC) head Scott Blackmun said.
Of the 1,000 gold medals, more than half have come from the combined efforts of competitors in track and field (323) and swimming (246) events, the USOC added.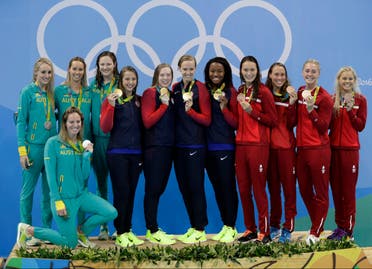 The US had arrived in Rio with 977 gold medals, according to Olympstats.com, and had sat on 998 for much of the day until Jeff Henderson put them on the brink with his victory in the long jump.
Sprinter Tori Bowie nearly took the US over the top in the 100 meters but the track and field athlete was beaten into second, leaving it up to the swimmers to complete the feat.
If the US women had not captured the landmark medal, Michael Phelps and the men's 4x100 medley relay squad would have done so, the quartet winning gold in the very next event in the pool.