Usain Bolt through to 200m Rio final, Gatlin out
Usain Bolt, now one step away from securing an incredible third Olympic sprint double, crossed in 19.78
Jamaica's Usain Bolt and Canadian Andre de Grasse set up an Olympic 200 metres showdown after crossing the line laughing together in their semi-final on Wednesday, but 100m silver medallist Justin Gatlin missed out after easing up too soon.

Bolt, now one step away from securing an incredible third Olympic sprint double, crossed in 19.78 seconds with De Grasse clocking a Canadian record 19.80.

"He was supposed to slow down," said Bolt. "I said, 'What are you doing, it's a semi-final?' But I think he wanted to push me.

"I was a bit lazy, I don't why, but I executed and got round."

While Bolt got away with taking his foot of the gas, Gatlin was not so fortunate. Once he realised he had eased off prematurely it was too late to recover as Dutchman Churandy Martina and Panama's Alonso Edward swept past him.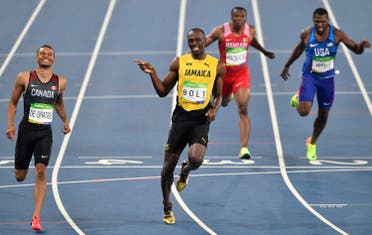 Bolt has won the last two Olympic titles and four successive world championships over his favourite distance.

The last time he lost a major 200m race was in the 2007 worlds when he was edged by American Tyson Gay, though training partner Blake did take him down in the 2012 Jamaican trials.
"I definitely think I can try for the world record," said Bolt, who set the current mark of 19.19 in the 2009 world championships.

"I need to run efficiently and get into the straight and run the perfect race. If I can run a little more efficiently on the turns. I will be hoping for lane six or seven maybe to be able to run as smooth as I can."