Filipina-Saudi Olympian reflects on Arab support
Jasmine al-Khaldi has represented the Philippines in two Olympic games, gaining both homegrown and Saudi fans along the way
Born to a Filipina mother and Saudi father, Jasmine al-Khaldi's success story of swimming first came as a child, when she nearly drowned at a friend's pool.
"I jumped in the pool without knowing how to swim. I drowned and someone came to my rescue," Khaldi told Al Arabiya English.
"Many close relatives will agree that I had a love for the water at a very young age, hence jumping in the pool without even knowing how to swim."
Her father, who passed away six years ago to cancer, and mother decided to enroll her into swimming classes immediately. Years later, she would represent the Philippines at the London and Rio Olympics.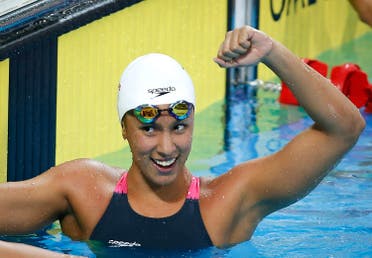 She finished third in the second of six heats in the women's 100-meter freestyle event in Rio, but failed to progress to the next round. However, the objective was the experience more than winning, Khaldi says.
"Not a lot of athletes get to go to two Olympics, but I'm one of the few. I'm very proud of my accomplishment, which took years of hard work to achieve."
Saudi support
She first gained popularity in Saudi Arabia and neighboring Gulf Arab states when she was announced in the Philippines line up for the London 2012 games. Her surname belongs to a well-known Saudi family and quickly caught attention.
"Despite representing the Philippines, we stand behind Al Khaldi - the daughter of the Philippines," wrote a Twitter user, while many wrote of their pride in a half-Saudi being represented on an international stage.
However, there was negativity from some. When a Saudi tweeted her during the London games asking if she had a sister "to work as a housemaid," he was flooded with so many reprimands from other Saudis that he was forced to quit Twitter.
Khaldi then trended in the Arab world with the hashtag #SaudiRepresentingThePhilippines in Arabic.
"Some said hurtful things mainly because of my gender. I try not to dwell on those," she said. "Some were inspired by my actions, and were thanking me and sending positive messages.
"Those just bring me joy and peace, knowing that what I do affects some change in someone's life, no matter where they are from."
As more support for women's rights gathers pace in Saudi Arabia, the kingdom has been increasing the number of female athletes it sends to compete abroad.
Sprinter Kariman Abuljadayel became the first Saudi woman to compete in the Olympic 100 meters.
Asked whether she would ever consider representing Saudi Arabia, Khaldi replied: "Since I have been representing the Philippines for about 10 years now, I don't feel the need to represent another country.
"I was born and raised in the Philippines, and it has been my home. I'm honored to be able to do that."