Getting to know Mohamed Lahna: The only Arab para-triathlete
Lahna, who is married with two children and lives in California, was born with proximal femoral focal deficiency resulting in him growing a small foot
It is 22 years since a chance meeting in the back of a taxi set the wheels in motion for Mohamed Lahna to make history at the Paralympic Games. Lahna's father, Mustafa, was a taxi driver in Casablanca and picked up Moroccan Paralympic swimmer Abdeljalal Biare. He mentioned his son had been born without a femur in his right leg and Biare invited the young boy to his training centre.
Inside the aquatics hall, 12 year-old Lahna sat on the edge of the pool with his only leg hanging over the side, waiting and watching as Biare completed his laps. Eventually, a lifeguard approached, quizzing him on why he was there and whether he knew how to swim. The young boy was so scared he might be asked to leave, he plunged into the pool.
"That was my first time swimming (also drowning)," he wrote on Instagram recently. "But now I can't get enough."
Aged 34, Lahna is the Arab World's only para-triathlete and last week competed in the inaugural triathlon at the Paralympic Games in Rio. Competing with a prosthetic leg, he finished the 750-metre swim, 20km bike race and 5km run in third place, taking bronze in the PT2 category for athletes with limb deficiencies. It was an historic moment for both him and the region, but also proof that with encouragement from the right people, dreams can be achieved.
Now Lahna is ready to inherit the role of Biare and assist other Arab children.
"I really hope this medal can help change the attitudes in the Arab World towards people with disabilities," he told Al Arabiya English. "I went to school with four or five other people with disabilities and most of them were not given any support. They kind of just faded out of society. It remains a huge problem there so I would love to go to schools and talk with the kids. Last year, we did something in Morocco and I would love to do it again."
Lahna, who is married with two children and lives in California, was born with proximal femoral focal deficiency resulting in him growing a small foot at about knee-height. Nowadays the foot is usually amputated, but his remains, requiring his prosthetics to be custom-made by a Moroccan friend. As incredible as it sounds given the task of swimming, cycling and running with only one leg, he says often it is the financial aspect of his sport that can be most challenging.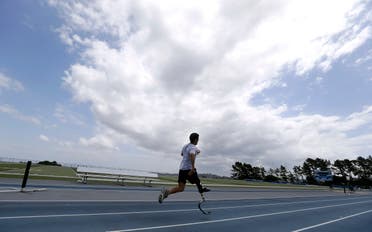 "For an athlete with disability, triathlon requires three different sets of equipment. The sport is already a little bit expensive for able-bodied athletes so it's doubly expensive for us," said Lahna, who earlier this year was signed to Alameda O.N, the Cairo-based outfit who claim to be the first Arab triathlon team. "I hope more companies in the Arab World will see this medal and think about backing not only para-triathletes, but para-athletes in general because it has a massive impact on society on so many levels."
Most crucially is that it helps inspire those with disabilities who are being hidden away or are too shy to go out in public, he says, .
"Sport for people with disability is essential because it takes people out. We have a huge problem in the Arab World where these people are hidden away from society. But when I go to the swimming pool, I show my disability; I am not afraid of it. My personality is very strong and it provides an example to others," he said.
"If someone sees me in the pool and they have a family member with a disability they might go back to them and say 'Come out, there are people like you out there'. It's a chain and it all helps to raise the issue rather than hide it. And that's what I want."