Miserable Mourinho feeling Manchester United pressure
He looks as if he's just been told he has to go on a lads' holiday with Arsene Wenger
Poor Jose Mourinho, he's won everything there is to win in club football, he's got more money than he knows what to do with and he's managing the one club he's always coveted. Yet he looks as if he's just been told he has to go on a lads' holiday with Arsene Wenger.

Holed up in his hotel, alone without his family and finding life at Old Trafford tough, Mourinho seems to be miserable. For most of us living in the penthouse suite of a five-star establishment would be heaven, for the Portuguese it's a "disaster." That's the sort of candor he usually reserves for speaking about the performance of the referee and it hints at someone who isn't enjoying life.

But is that really any shock? If you've spent your entire managerial career squeezing the life out of football, is it any surprise when football then squeezes the life out of you?

Part of Mourinho's makeup, and other managers who see football as a game of denial and defense rather than expression and excitement, is that of having a siege mentality. Only Mourinho could be at Chelsea, Inter Milan and Real Madrid, three of the biggest clubs in the world with mountains of money to spend, and still claim to be up against it; that referees, the media, fans and governing bodies are somehow always against him and his team.

With some managers, such talk is simply a way to deflect attention from poor results, but with Mourinho you get the sense that he really believes it. He's like the multi-millionaire businessman who, despite the mansions, fast cars, access to power and wealth beyond the 99 percent's dreams, bizarrely always sees himself as the victim - it's a mentality that that is as telling as it is perverse.

Before United's draw against Burnley on Saturday, Mourinho once again indulged in a woe-is-me moment, saying: "some clubs get time but with others you demand immediate success of the clubs and the managers. That's Manchester United and Jose Mourinho." While the need for success at Old Trafford is a given, such is the nature of modern-day football that any manager without a win in a month is suddenly under pressure. Whether Mourinho admits it or not regarding the need and desire for success, United are very much the rule rather than the exception.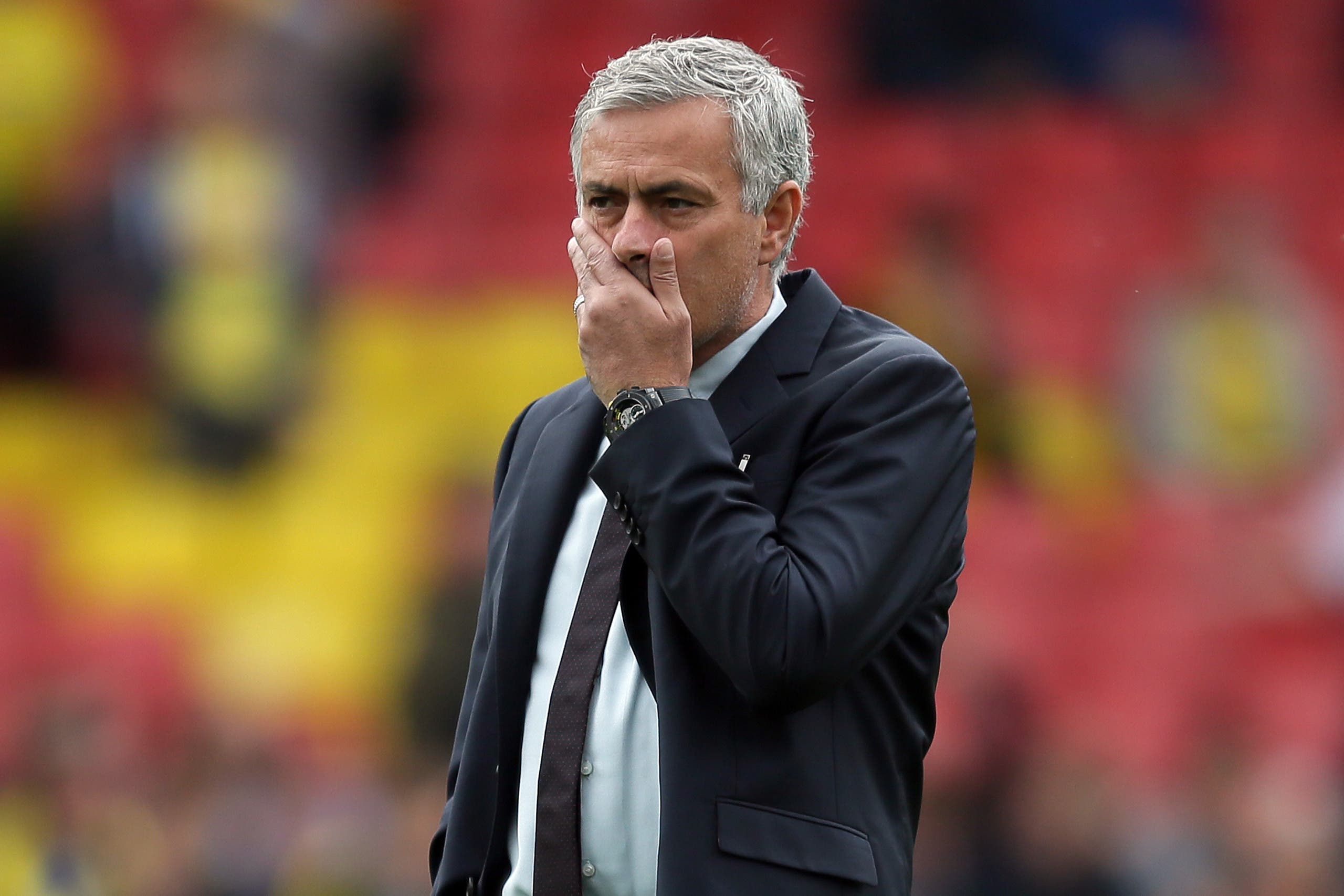 Pressure is one thing, but outlook is another and after years of producing joyless and clinical football can it be any shock that when wins aren't coming as freely as they once did the fun, cheer and exuberance you once had is no longer there, that a tough job becomes even tougher and enemies easier to find?

On Saturday, the foe was the referee Mark Clattenburg who sent Mourinho to the stands after a half-time confrontation with the official. That, along with the sorry stats that United have scored - only one goal in four Premier League clashes one win in the past seven - sums up the current mood at Old Trafford.

The sight of a morose manager and joyless football is not only in marked contrast with what United fans have been used to seeing in the past, but also with what's happening right now at their arch-rivals, Liverpool. Could there be any more difference between the image of a frowning, unhappy Mourinho, alone in his hotel room and the smiling, laughing and successful Jurgen Klopp?

It's hard to imagine the German, the Kop's latest infatuation, being anything other than self-effacing, with a spring in his step and generally lighting up any room fortunate enough to host him. Since he became Liverpool's boss, the Reds have scored more goals than any team in the Premier League, played with flair, adventure and the sense that they are there to entertain.

While some Liverpool fans, clearly very hard to please, despair at their shaky defense, the side's been a joy to watch and it's no coincidence their play mirrors their manager's positive outlook. The despondent mood that dominated Anfield at the end of Brendan Rodgers' reign has been replaced by an energy and passion both on the pitch and in the dugout. Klopp's cheerful demeanor exemplifies everything that's good about Liverpool. He looks like he's having the time of his life and it wouldn't be a surprise if the Reds were to win the Premier League.

After over a decade of almost unparalleled success, Mourinho's powers of persuasion and bravado are in the spotlight like never before and he's not enjoying it - ironic considering he's always enjoyed being the center of attention. The cocky, confident man who burst onto the scene 12 years ago has been replaced by a pale imitation, a once jovial breath of fresh air now feels hard done by and under pressure.

From the outside looking in, it seems that rather than another spending spree what United really need is more positivity from the manager, both on and off the pitch. Only time will tell whether Mourinho has it in himself to embrace change and expression, but if he were to achieve success as Manchester United's boss it would perhaps be his greatest achievement.