Hala al-Hamrani is the first Saudi female boxer. She said that if she starts all over again, she would still have chosen boxing, expressing her passion and love for this sport and martial arts in general. She had already discovered her passion for this sport at an early age, when she was just a 12-year-old student.
Despite being now a wife and a mother, her passion did not fade, but quite the contrary, she has even opened a special gym to teach Saudi women the art of boxing in the city of Jeddah.
Hala was born in Jeddah and after graduating from high school, she moved to San Diego in the USA, where she majored in environmental studies and international relations. "Martial arts help the person gain confidence and happiness" she explained that this is what impressed her the most. Her first experience with Martial Arts was back when she was 12 years old and started to take Karate lessons at school."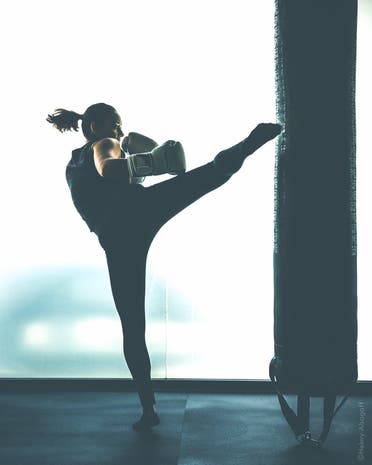 Hala said to al-Arabiya that her career started when she first fell in love with the Japanese Jujitsu sport and got a black belt in it. Her ambition did not stop there, as she began to get involved in other combat sports such as the kick boxing and Thai boxing. After 10 years of training, she was able to get certified as a boxing trainer, as well as a first and second level trainer for the Cross-Fit sport.
Hala did not limit herself to her trainings; she also sought to transfer her experience to other women. She started to give Boxing and Cross-Fit classes for girls and women in Jeddah. About her experience in training, she said that her efforts are still limited but she has opened her own gym for girls and there are a lot of girls and women who are interested."

She added that she is happy to witness the evolution of this sport between women in Saudi Arabia. She said: "If the authorities started giving licenses for women gyms in Saudi Arabia, I will expand my activities, which will allow further experience in the fitness and sports fields."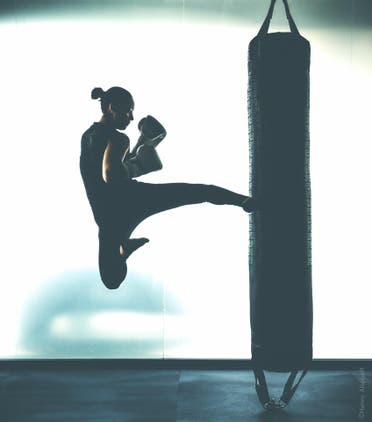 Regarding what is said in the community that women tend to learn self-defense sports as a reaction to a certain abuse they have experienced, Hamrani said that this point of view is shameful. She added that "she did not learn martial arts because she has been physically attacked but because she really likes it. This sport does not differ from other sports that she practiced like gymnastics, basketball, baseball and rowing."
She added that boxing promotes fitness and burns fat; it also contributes to de-stressing and generates a sense of strength, self-confidence and love of competition. "These are important feelings in our patriarchal society" she said.
When asked why she did not participate in Olympic or Arab competitions, Hamrani said that when she was in San Diego, her first concern was to accomplish her university studies, and when she got back to Saudi Arabia, she did not find trainers who would help her participate in competitions. She said that "after giving birth to her first child, she really thought about traveling to the US and become a professional boxer and her husband was very supportive, but she then backed up because she was afraid that it would limit her time spent with her family." She concluded saying: "that she is looking forward to sponsoring Saudi female boxers in local and international competitions."