Qatar's political use of football stars could jeopardize its sporting monopoly
Qatar's ambitions to become a regional sports powerhouse will be severely put to the test following the serious political rift with Gulf and Arab countries in the region as well as around the world.
Doha has not expressed willingness to stop funding terror groups or its political interference in the internal affairs of neighboring countries and favoring Iran over fellow Gulf countries.
With Kuwaiti mediation efforts also not making much headway, according to observers, the spat will have undoubtedly have fallout on the sporting field too, with the country in the midst of building a massive sporting infrastructure, winning the rights to the FIFA World Cup in 2022 as well as many other tournaments.
It was on June 5 that Saudi Arabia, UAE, Bahrain and Egypt cut all diplomatic and economic ties with Qatar and severed air and sea links, while Saudi Arabia closed Qatar's only land border on the Arabian Peninsula.
Several other Arab countries and governments followed suit and severed ties with Doha.
Construction hiccups
Qatar has to complete its $200 billion-plus worth of infrastructure projects in order to host the FIFA 2022 World Cup. Qatari officials have claimed that they were splurging almost $500 million every week on completing these projects. The border closure has already made its impact with reports suggesting that Doha has only two weeks of construction materials left to build the remaining infrastructure to host the World Cup in five years. Most of these imported materials came earlier across the Saudi border.
In recent days, Saudi Arabia, Bahrain and the UAE have also decided to stop selling receivers and cards of Doha-based sports channel beIN Sports, formerly known as Al Jazeera Sports which was launched in 2003. It is the second Qatar-based channel which has been banned in these Gulf states, which have already blocked the Qatari state-owned news channel Al Jazeera and its websites.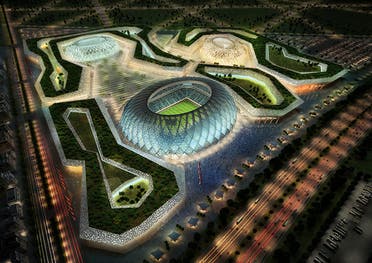 Will Doha try grandstanding tactics in international sports fora and arenas to highlight the ban imposed by its neighbors and other Arab states, and try to retain its regional sport monopoly?
On that front, it is also facing setbacks with its national football team who are facing probable disciplinary measures by the Federation International Football Association (FIFA) after its players wore shirts with photos of Qatar's Emir Sheikh Tamim prior to its match with South Korea on Tuesday in Doha.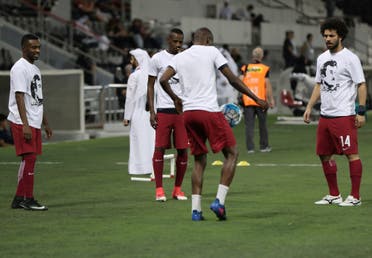 The Qatari national team entered the pitch during their warm up session wearing shirts that had Sheikh Tamim's photo on them. The T-shirts also read 'Tamim, the glory.'
Qatari midfielder Hassan Al-Haidos also waved the shirt when he scored a goal in the 25th minute.
FIFA strictly prohibits any display of political, religious or commercial messages on the players' uniforms no matter what circumstances were.
Misusing soft power
When Doha initially sought to boost sports as a "soft power" to promote the image of the Arab world, many had welcomed it. But recent events have belied that hope.
Using Qatari players to gain advantage and international sympathy to cover its diplomatic crisis is a flagrant example of how Doha's aim has been to exploit sports to serve its political, rather than cultural, interests.
It has already made use of former Barcelona and Spain captain Xavi Hernandez in a video where he called for an end to the Gulf and Arab "blockage" of Qatar.
This was followed by similar calls in recent days by Dutch football twins Frank and Ronald de Boer as well as former Real Madrid goalkeeper Iker Casillas.
Interestingly, these former international football stars were told to focus on the term "blockade" during their videos in an attempt to gain global sympathy, despite the fact that Gulf and Arab countries have clarified time and again that there is no "siege" placed on the country.
Qatar's ports and airport are still open to receiving food and its citizens can travel to all countries around the world, except to and over countries that have declared economic sanctions against Qatar.
Flashpoint
Experts add that the players' recent move of wearing shirts with political slogans is a dangerous move and likely flashpoint that may push FIFA officials to reconsider the organization of sports' events and broadcasting rights.
They also point to how many of those who appear on the Qatari beIN sports channels have outright political affiliations. Some of the analysts belong or support Muslim Brotherhood groups in their countries. Mohamed Aboutrika, for example, is wanted by the Egyptian authorities over charges of supporting the banned Muslim Brotherhood movement. Former footballer Tarak Dhiab, who was assigned the role of minister of youth and sports by Ennahda Movement in Tunisia, has spoken favorably of pro-Islamists groups in the past and used his position as a BeIN Sports analyst to defend Aboutrika.
Sources who have worked with Al Jazeera Sports channel, which changed its name to beIN Sports, said that through prominent executives and stars who founded the outlet, many of them are known among the employees for supporting Islamist groups, especially the Muslim Brotherhood.
Breaking the monopoly
According to some experts, there is another gap that Arab countries can rely on to break the Qatari monopoly over sporting rights, and it won't be that difficult to implement.
Mohammed Fadlallah, an expert in sports intellectual rights, confirmed that both Saudi Arabia and the UAE have the rights to broadcast international football championships, as per the laws of the International Intellectual Property Organization in Beijing.
"The rights to transfer the World Cup are presented individually to each country," Fadlallah told Al Arabiya sports news. "In the Middle East, the right was given to a single channel due to the region's classification as the Middle East and North Africa (MENA), despite major differences."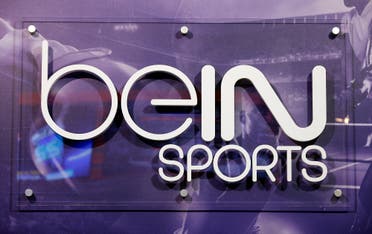 On the other hand, other countries in the region benefit from individual rights such as Iran, Israel and Turkey.
There is no monopoly in Europe for the World Cup and the European Cup. When FIFA did try to encrypt transmission four years ago, the European Court ruled against the decision, Fadlallah reminded.
Saudi Arabia and the UAE can review the decision with the concerned authorities and seek individual rights.
Qatar's support for the terrorist organizations and FIFA's attempt to get rid of the corruption cases that have dogged the awarding of the 2022 mega football event have already created a shadow over Doha's sporting ambitions.