The 22-year-old Egyptian Farida Osman, broke her own African record in a time of 25.39 in the 50 fly final, putting her in third place at the World Championships. This has been her personal best record since 2013, and is also Egypt's first medal of any color at the event in Budapest.
Breaking her record twice on July 28, she beat the American record.
Osman and South Africa's Cameron Van Der Burgh and Chad Le Clos were the only African swimmers that earned medals at this meet.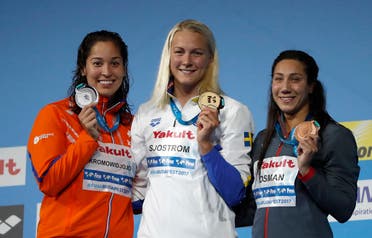 According to SwimSwam website, Osman recently graduated from the University of California, where she had a key role in the Golden Bears team, being amongst the top in the NCAA swimming event held annually.
In addition, in last year's summer Olympic Games in Rio de Janeiro, Osman took the 100 fly African record. And earlier this week, she was in 25th place in the prelims of the 100 freestyle.
She will later swim the semis in the 50 freestyle event, having missed the mark in the 100 freestyle.
SwimSwam readers reacted warmly to her achievement and one of them referred to her as "Egypt's Gold Fish…"