Brussels, Belgium - Mohamed El Marcouchi, 29, is a Belgian boxer of Moroccan origin. He recently won the African super lightweight boxing title.
Born in Molenbeek, a municipality in the heart of Brussels that has been described by some foreign media as "a hotspot for international terrorism" after the 2016 Paris and Brussels attacks. His success has not come easy and fighting his young life so far against many difficulties, prejudices and discrimination. His ambition and determination have made triumph the Belgian model of cultural diversity.
The boxing champion showed the world that the face of Molenbeek is not all shrouded in terrorism as it has been painted as.
Molenbeek, school, boxing and the role of his father
El Marcouchi, who has come to embrace the name of Marco, started practicing martial arts when he was just six years old.
"I began with karate because my father was a karate teacher in Molenbeek. I stopped when I was 12 and started roaming the streets with my friends. Despite the good education my parents gave me at home, outside I was someone else," the young boxer told Al Arabiya English.
He says boxing has more or less saved his life.
"I was at the point to become a petty criminal. After two years my cousin put me in my place and brought me into a boxing gym. I entered the gym and started to punch the bag. After a few minutes the coach called me on the ring for a sparring with one of his best young boxers. I did very well and the coach directly wanted me in his team. I enjoyed the challenge directly, it was full of adrenaline," El Marcouchi said.
From that moment on, a real love story between El Marcouchi and the sport began.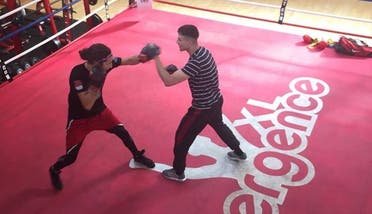 About his school days, El Marcouchi underlined the key role played by his father. "When I was 16 many of my friends weren't going anymore at school, some of them were working and others roaming in the streets. I wanted to do the same as us. We were saying that school is useless. So one day I came at home and said to my father that I wanted to stop secondary because I wanted to work. Then my father took me in his car for a drive in the streets of Molenbeek by night and showed me the junkies who were at each corner of the streets. He told me "is that what you want to become?".
He added "if you want to work beside your studies I will find you a student job".
His father then found him a student job where he saw how hard the working life is which made him understand how important it was for him to finish his scholarship.
"At that time my daily life was going on the rhythm of school and boxing. In the morning I had 45 minutes in public transports from my home to my school. In the afternoon 45 minutes back to home and then 45 minutes to the boxing gym. I was sleeping every day in the bus. I started to reach a good level in amateur boxing. Boxing save me from the street".
"When I was 20 someone offered me a job for the social services of the municipality of Brussels. I started working with Yvan Mayeur, the ex-Mayor of Brussels. That job was perfect for me because it allowed me to train as I wanted. I was working a lot of extra hours in order to have more days off to train more and to fight abroad. From my 19 years to my 24 years I was competing for the Belgian national team of amateur boxing."
'Something missing'
But something was missing. "I was representing a country that never fully accepted me. A country where I had to face a lot of discrimination because of my origin and my background. I had always to prove who I am. People weren't accepting me as a real Belgian, they were always asking me what was my origin, and referring to it. I was fed up to always justify myself. People always tried to put a sticker on our heads. We were "the Moroccans", the "Muslims", the 'Maghrebians'. I am born and raised in Belgium, I wanted to show them that I was well integrated in the Belgian society. That gave me the will to become a boxing champion in order to prove that a young like me could succeed and show another image as Belgian of Moroccan origin."
"I was twice champion of Belgium. Under the colors of Belgium, I won titles in the Netherlands, UK and Denmark. I failed twice for the 2012 London Olympics. The same year I became professional boxer. But despite all this it was still hard for me. Nobody wanted to help me. Nobody wanted to provide me the financial funds I needed.
But still I had the conviction that I will succeed and that my work will pay one day.
That's why I decided to make a career break at work and to leave to the US. I wanted to live the 'American dream' as a boxer."
From Molenbeek to America
"Since my childhood I was always fascinated by the American boxers: Muhammad Ali, Roy Jones, Mike Tyson. I knew that if I wanted to succeed as a professional boxer I had to try my chance in the US. I came with my wife and my son to Miami. I said to my wife let's try for a month, if nothing comes we will go back to Belgium. But at least I had to try. We didn't know anyone there. We had no contacts. I started training in Muhammad Ali's boxing gym, the 5th Street Gym. I was living on the 37th and was walking every day 8km to come to train. I was so determined."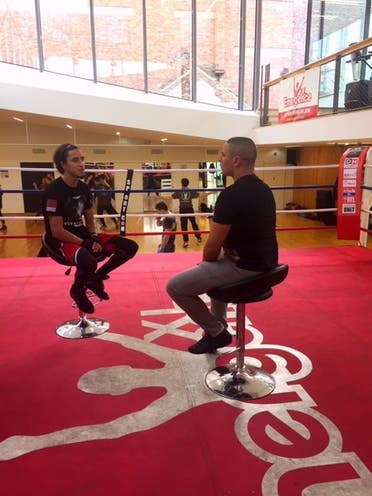 During those 30 days, El Marcouchi trained hard but nothing was coming out of those hours of sweat. "I had a lot of fake promises of contract. Nothing concrete came to me. On the 30th day I said to my wife, "I think it's desperate, there is nothing for me". Our flight back was planned on Wednesday. On Tuesday morning I got a phone call that says me that I had a try in Fort Lauderdale 40 km from Miami. I went to try what was my last chance. After a few minutes the coach Chico Rivas said me "It's ok I want you in my team". He helped me to get my visa, he made me sign my contract and I passed professional there."
"The contract planned only 4 boxing match. It was not advantageous for me and didn't offer me interesting future prospects for my career. After two years I asked a release of my contract. I was training alone with my coach in the shadow. And since then I have 19 victories and only one defeat."
Winning the African title
During the World Boxing Council (WBC) Convention in Miami in 2016 Mohamed and his manager met the officials in order to find a match to allow Mohamed to enter the WBC ranking. The WBC is one of the 4 important international boxing organizations with WBA, the IBF and the WBO. He met the person responsible for the African title. "He told us that I could compete for the African belt. A promotor was organizing a boxing gala in Morocco. We found an agreement for a match on 8 April in Marrakech."
"On the night of the fight, before entering the ring I made a replay in my head. I saw all the way, and everything I suffered from Molenbeek to the US. I knew that I had the support of my family, of people in Morocco, in Belgium, in the US. I couldn't lose! It was an inexplicable feeling."
During the fight everything went perfectly for El Marcouchi. The victory allowed him to enter the WBC. He is now 40th in the ranking of the super lightweight category.
For him this victory had a special taste "this African title is very symbolical for me and for the country I represent." Indeed, his victory came in the year when Morocco rejoined the African Union after 33 years of absence.
Paying it forward
El Marcouchi gained a lot of notoriety in Belgium because of his title. He knows the role he can play and the message he can send to the youth, especially to the young people of foreign origin.
"I feel as an ambassador of my two countries, Belgium and Morocco. I want to show to people that despite our cultural differences we are not so different. We have the chance to have this double culture. We need to play this card and to show what we really are."
El Marcouchi says he doesn't forget the municipality where he grew up, Molenbeek. The image of Molenbeek has been tarnished after Brussels and Paris attacks. The municipality has been put under the spotlights of the world's media after it has been found that many of the terrorists have lived or transited in Molenbeek.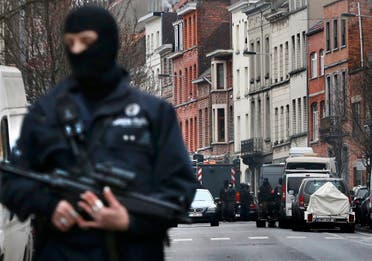 During the terrorist attacks, El Marcouchi was training in the US and said the stigmatization of his hometown after the attacks had profoundly affected him. "I have a role to play as 'Molenbeekois' (citizen of Molenbeek) first of all, and also as Belgian-Moroccan. We all know as Muslims, Arabs and Belgians of foreign origin that we will have to work twice more than others without complaining. Nothing will be easy or free for us. I want to show that nothing is impossible. Everything is a matter of will. It's like this in the daily life, if you want to achieve an objective there is only the hard work that pays. This my doctrine of life, this is what my father taught me. I want to show that nothing is for free in this life".
"I came back in Belgium with my belt of African Champion to share it with the people and to thank them. I want to show to the young people that nothing is impossible. I became a model for them. They want to look like me. I get a lot of messages on Facebook. Some people wrote me from prison!"
"I think that people really need me here, especially in Molenbeek after what happened. I have a crucial role to play here. Many of these young people are discriminated. They are trying to find their identity. Often they want to be someone they are not, someone they will never be. They create a fake image of themselves. Everyone needs to work on its own personality, on its own identity. The young people need to be proud of themselves and where they come from."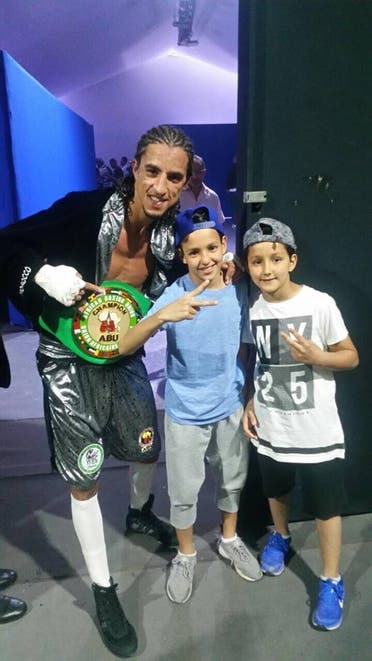 El Marcouchi grew up in a neighborhood like many others in Europe, affected by unemployment and delinquency. "Hopefully I was lucky to find the good people in the good moment. My father was always supervising me and speaking to me despite we are 7 brothers and sisters. But in some families there is no communication between the children and the parents. How these kids can build their identity of their parents, who are often the first models, are missing?".
While El Marcouchi is experiencing success, some of the people he knows in Molenbeek went through delinquency and began trafficking in drugs. "Some of them have tried everything but didn't find their way. They were out-of-school before they were 18, they were roaming the streets. They didn't find a stable job and faced many discriminations due to their social and cultural background. At the same age I was going to train and they were going out almost every night. They were saying to me to stop boxing, that I had no future but I didn't listen to them and stayed away from easy pleasures."
"The attacks didn't only affect our town but also our Muslim identity. We made so many positive things, we worked so hard and what upsets me is that the media attention is drawn to the bad ones who represent only a tiny minority. This is where I think I have a role to play. I can't abandon now. I have to show that nothing in life is free."
El Marcouchi says he considers myself a young Moroccan of Muslim religion born in Belgium, a country which he says gave him both a roof and a joy of living.
"I want to show them that I have succeeded, I want to be a reference. I want to share it with people. I would like to be first Belgian-Moroccan of Muslim to win the WBC title. That would be my greatest wish and why not realize it in the Arab world."