The head of European soccer's governing body and Jordan's Prince Ali inaugurated a full-size soccer pitch Tuesday in the kingdom's largest camp for Syrian refugees, part of efforts to bring a sense of normalcy to those faced with open-ended exile.
UEFA President Aleksander Ceferin kicked a ball around with Syrian children who joyfully ran onto the facility's artificial grass after the ribbon-cutting.
"I love football because it helps us fill our spare time," said Marah Khalil, a 14-year-old girl from southern Syria's Daraa province. "It's better to take our negative energy out with something positive like football."
About 80,000 Syrians live in caravans in northeast Jordan's Zaatari camp which was established in 2012, a year after the outbreak of the Syria conflict. With Syria's civil war in its seventh year and many areas of the country devastated by fighting, refugees don't know when they might be able to go home.
In the meantime, Zaatari's infrastructure has evolved. A job center opened last month and a solar power plant is under construction.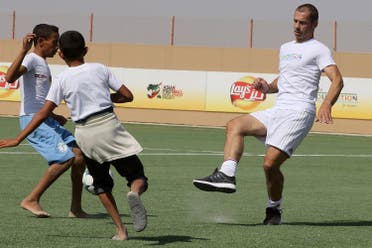 The pitch was funded in part by UEFA's Foundation for Children and Jordan's Asian Football Development Project, but organizers did not say how much it cost.
The playing field is regulation size, but the facility lacks the other attributes of a stadium, such as a roof and seats for spectators. About 4,500 children and young men and women are benefiting from the field, officials said.
Ceferin said the pitch is evidence that soccer "can help change the world."
Former French national team player Christian Karembeu said after the ceremony that "with sports we can at least try to eradicate some trauma" of Syria's civil war.
The top representative of the UN refugee agency in Jordan, Stefano Severe, said new installations in the camp are meant to ease the lives of the refugees, "but also prepare them for eventual return to Syria.