Saudi Arabia signs academy deal with legendary German goalkeeper Oliver Kahn
The Saudi Sports Authority has signed a contract with legendary German goalkeeper Oliver Kahn to oversee an academy to prepare current and future goalkeepers of Saudi football teams.
In a statement posted on its official website on Twitter, the authority said that it "is keen to develop the standards of football players in line with the latest methods of football and its development and to achieve a generation of outstanding sports in this popular game and establish a specialized academy focused on the goalkeeper".
"Tariq bin Abdulmohsen Al-Shaikh, Chairman of the Board, has signed a contract with Oliver Kahn, the German international goalkeeper, to oversee and manage this academy, which will be named Oliver Kahn International Academy, and will be available to all interested people from all over the world," the statement added.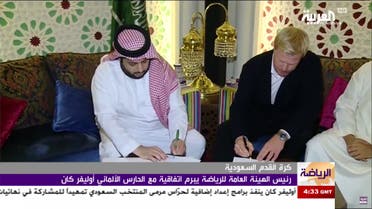 The move comes as Saudi Arabia seeks to solve their problem of goalkeeping in recent years. Since the retirement of Mohammed al-Daei, several names have followed the Saudi goalkeeper but none have succeeded in imposing themselves as a permanent guard of the first team.