Lewis Hamilton moved within reach of a fourth Formula One world championship on Sunday after winning a Japanese Grand Prix that saw Ferrari title rival Sebastian Vettel retire with engine problems.

The Mercedes driver crossed the line 1.2 seconds ahead of Red Bull's Max Verstappen, after picking up vibrations on his tyres in the dying stages of an otherwise trouble-free race.

Verstappen's Australian team-mate Daniel Ricciardo finished third.

Hamilton started on pole position and now leads Vettel, who retired on the fourth lap, by 59 points in the standings with four races remaining. He could clinch the title as early as the next US Grand Prix.
Vettel retires after engine problem
Vettel saw his title hopes all but disappear on Sunday after the Ferrari driver retired from the Japanese Grand Prix with engine problems.

The German retired on the fourth lap at Suzuka after his mechanics had worked feverishly on the starting grid to try and fix his car.

Vettel had already been 34 points behind championship leader Hamilton.

"Of course it hurts, and we're all disappointed," the four times world champion, who hugged his mechanics and gave the crowd a quick wave after returning to the pits, told television reporters.

"Now I think we just have to get back, get some rest and go flat out for the last four races and see what happens."

Vettel had lined up alongside Hamilton on the front row at a sunny Suzuka, hoping the hotter conditions could handicap the Briton after he proved unbeatable in Saturday's cooler qualifying.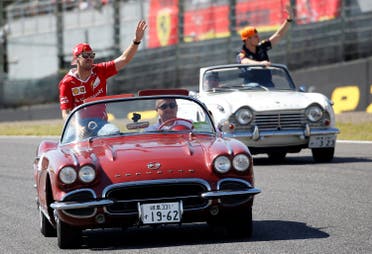 But all was clearly not well, with Ferrari mechanics swarming around the car as the seconds ticked away.

"I think it was a small problem causing a big issue. We didn't have power already on the formation lap, no power at the start and then the first couple of laps already," he said.

"We tried to reset everything to try and get the power back but we couldn't. It looks like there was a problem with the spark plug.

"Not much we could have done. Unfortunately not our day."

The German made a clean start, hanging on to second off the line, but it soon became apparent the problem ran much deeper as Vettel, clearly lacking power, plummeted down the order.

He was finally called in to the pits: "Box, Sebastian, box. We retire the car," he was told.

It was the third race in a row that Vettel's hopes had been dealt a battering.
Singapore collision
In Singapore, the 30-year-old crashed out on the opening lap after colliding with team-mate Kimi Raikkonen, who had tangled with Red Bull's Max Verstappen.

Two weeks later in Malaysia, the Ferrari driver finished fourth after engine problems in qualifying left him at the back of the field. Raikkonen had been ruled out even before then and did not start.

Triple champion Hamilton capitalised on both occasions, winning in Singapore and finishing second in Malaysia.

Sunday's setback could prove the most decisive yet, opening the possibility that Hamilton could wrap up his fourth title as early as the next race in Austin, Texas.

The Briton would need to win there with Vettel no higher than sixth to prevent the championship remaining open until Mexico a week later.

"I don't need to be a genius or a mathematician," said Vettel of the odds against him.

"I think we are improving race by race, we've got a lot further than people have thought so there's also some positives," he added. "But for sure now you don't look at the positives because it's not the day to look at positives."