After Egypt's qualification to the 2018 World Cup last night for the first time in 28 years, the team's keeper, Essam El Hadary, will become the oldest player ever take part in the quadrennial event.

The team took the win, beating Congo 2-1.

The 44-year-old currently plays for and captains Al-Taawoun team in Saudi Arabia.

Hadary has been and continues to be a legendary name among players and football enthusiasts. The goalkeeper has had an incredibly successful career, taking home many names and titles and his passion for the game persists.

Speaking to FIFA.com this week before the winning game, Hadary said: "I did almost everything in my footballing career. I won 37 trophies and I enjoyed some remarkable moments such as our win over Italy at the 2009 Confederations Cup. The only thing that is missing for me is a World Cup appearance."
Determinate and persistent

"I've always been very determined and persistent to carry on playing; this is my character. During my time at Al Ahly, (current Egypt goalkeeping coach) Ahmed Nagui told me I would stop playing after the age of 50," he added.

With this incentive in mind, Hadary was evermore determined to push Egypt forward.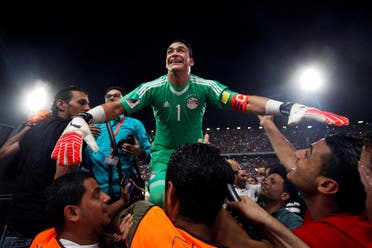 As of last night, this dream of his is becoming reality and setting a historical record in the prestigious sporting event.

Hadary would now replace Colombian goalkeeper Faryd Mondragon – who until last night held the title – as the oldest player in World Cup history.

The goalkeeper also set the record as the oldest player in African Cup of Nations history when playing against Mali in January of this year. His former teammate Hossam Hassan held this title during the 2006 Nations Cup at 39.