An expressive photo of a disabled young Egyptian man, Mahmoud Abdo, was circulated showing him dancing after Egypt's qualification to the 2018 World Cup in Russia.

Abdo was overwhelmed with excitement upon Egypt's qualification. His joy turned into a spur of energy allowing him to run, with one leg, then fly up in the air while balancing on his crutches.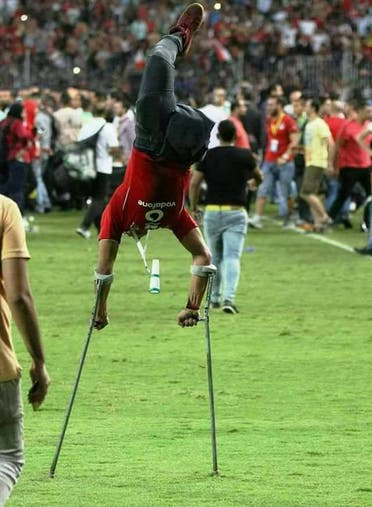 A symbol of hope
The picture touched the hearts of many.

According to the Egyptian Football Association, FIFA has adopted the image as an expressive shot that embodies and represents football as a tool of hope and will.

Speaking to Al Arabiya.net, owner of the photo and photographer at Al Joumhouria newspaper, Ezzat al-Simmary said that on the day of the match he pursued Borg El Arab Stadium at 2 pm to secure a good spot.

At 5 pm a group of football enthusiasts with special needs arrived. They were situated under the main cabin in light of their health condition.

Simmary explains that before the match, national music was played in the stadium stimulating the whole audience enjoyed. But then, he was surprised to see a young man with special needs dancing to the music – Abdo.
Celebration
The photographer decided to keep an eye on Abdo during the match, as if expecting him to do something incredible. He did.

Upon the referee's whistle signaling the end of the match, confirming Egypt's qualification to the World Cup, Simmary was surprised to see Abdo perform this acrobatic move.

Simmary explains that he missed the picture the first time, but Abdo repeated the move twice allowing him to take the picture we now see.