The political and rift between Arab states led by Saudi Arabia and Qatar over the latter's support for terror groups in the region and Doha's political meddling in the neighborhood has resulted in the slowdown of stadia being readied for the 2022 World Cup.

The slow progress in construction since June on at least three of the stadiums, out of the eight venues needed for staging the FIFA event were highlighted in an analysis of satellite images in a report by Business Insider.

The analysis has been done by Bird.i, a technology startup.

Only one stadium – the Khalifa International Stadium in Doha – has been completed. And Al Thumama Stadium, in Doha, set for completion in 2020 has seen more progress.

Before the Arab and Gulf boycott, most construction materials, and essentials like foodstuffs, were transported through Saudi Arabia and other Gulf countries. With Saudi Arabia, the United Arab Emirates, Bahrain and Egypt breaking relations with Doha in June, 2017, sourcing and importing these materials and supplies have proved more difficult.

Mark O'Connell, CEO at investment advisory firm OCO Global, was quoted by Business Insider as warning that multiple projects in Qatar are on hold. He also queried the "realism" of Doha being able to stage the World Cup.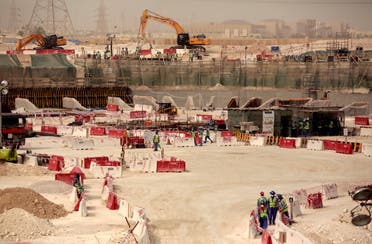 In the case of Lusail Iconic Stadium, the images analyzed from March, June, September and December 2017 show scant progress. The pace does not pick up from June, when the break in ties happened, with just the foundations seen in the latest image.

Another stadium that is dragging on for the past one year – with just the foundations and the start of structural work - is the Al Rayyan Stadium, close to the capital Doha. The planned completion date within a year seems unrealistic.

According to Corentin Guillo, founder and CEO at Bird.i, progress has slowed since the blockade began.

In the case of another stadium Ras Abu Abboud, in Doha, analysis of the November image shows no construction has taken place as yet.

The status of the other four stadia is as follows: Some progress was made at the foundation stages Al Bayt Stadium. In the second and third quarters of 2017, progress was seen at Al Thumama, Al Wakrah and Education City stadia.

The head of the organisation responsible for delivering the stadia for the World Cup, Hassan Al Thawadi, Secretary General of the Supreme Committee for Delivery & Legacy, downplayed the images and said they were not indications of the progress they had made. "It's business as usual in our preparations," he was quoted by Business Insider.