Australia coach Darren Lehmann said on Thursday he would step down after this week's test match against South Africa, as he took ultimate responsibility for the culture of a team embroiled in a ball-tampering scandal that has rocked the sport.

Lehmann, who had previously told reporters he would not stand aside, said that his decision was due in part to the abuse his family received after three Australia players conspired to scuff up the ball with sandpaper during the third test against South Africa.

Cricket Australia had cleared Lehmann of wrongdoing this week following an investigation that saw sacked captain Steve Smith and vice-captain David Warner banned for 12 months. Batsman Cameron Bancroft was suspended for nine months.

In an emotional media briefing, Lehmann, who had also come under fire for what critics called a toxic culture within the team, said his decision was voluntary.

"Ultimately I'm responsible for the culture of the team. I've been thinking about my position for a while, despite telling media yesterday that I'm not resigning," he told reporters in Johannesburg on Thursday.

"My family and I got a lot of abuse over the last week. Speaking to my family, it's the right time to step away."

His resignation came after former test captain Smith broke down in tears of remorse as the three disgraced cricketers at the center of the Cape Town scandal made apologetic returns to Australia on Thursday.

Smith was unable to complete his news conference at Sydney Airport and was ushered out of the room after a short display of raw emotion during which he repeatedly apologized for his misjudgment.

Batsman Bancroft spoke of his shame on his arrival in Perth and former vice captain Warner, scheduled to land in Sydney later in the evening, took to social media to apologize for his role in the cheating.
'Failure of leadership'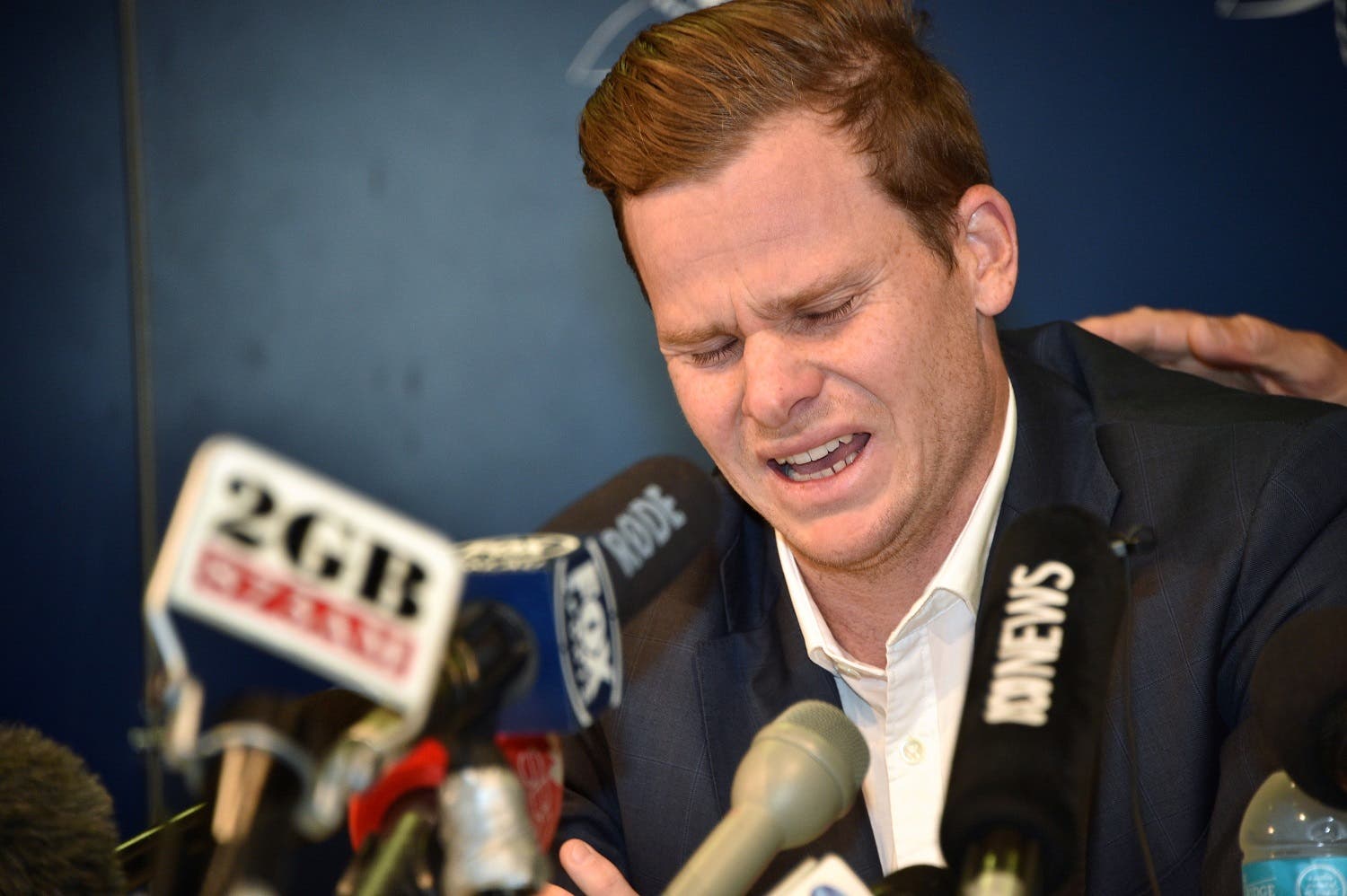 Cricketer Steve Smith reacts at a press conference at the airport in Sydney on March 29, 2018, after returning from South Africa. (AFP)


"Cricket is the greatest game in the world. It's been my life and I hope it can be again. I'm sorry and I'm absolutely devastated."

Warner, who was identified as the instigator of the attempt to cheat by the Cricket Australia probe, broke his silence via Instagram, apologizing and taking responsibility for his "part" in the scandal.

"I understand the distress this has caused the sport and its fans," the opening batsman wrote. "It's a stain on the game we all love and I have loved since I was a boy."

Bancroft confessed to having lied about using sticky tape rather than sandpaper to scuff the ball in Cape Town in the news conference immediately after the incident last Saturday.

"I lied. I lied about the sandpaper," the 25-year-old told reporters. "I panicked in that situation and I'm very sorry. I feel like I've let everyone down in Australia."
Universal condemnation
SHOW MORE
Last Update: Wednesday, 20 May 2020 KSA 09:52 - GMT 06:52