WATCH: Brawl erupts after Mo Salah scores for Liverpool against Manchester City
A video posted by a British football fan on Tuesday showed a fight which erupted in the family section of the Etihad stadium where Manchester City was playing against Liverpool, the Daily Mail reported.

The short video purportedly showed Manchester City fans attack Liverpool fans after they cheered because their team scored.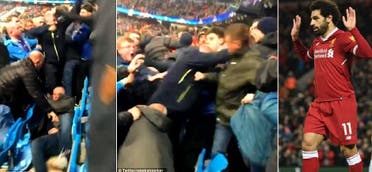 According to the Mirror, the fight erupted after a Liverpool fan celebrated Mo Salah's goal. Many Twitter users speculated why the alleged Liverpool supporter was seated in Manchester City's section to begin with.

Liverpool won 2-1 ending Manchester City's Champions League dream.
Rebekah Parker who posted the video on Twitter said: "This is what happens when you're a Liverpool fan in the City family stand and you cheer when you score. What have I just witnessed?"

The video has been viewed over 500,000 times since she shared it, and it has been retweeted almost 2,800 times and liked 3,500 times.