Cristiano Ronaldo scored an injury-time penalty to send Real Madrid into the semi-finals of the Champions League in dramatic circumstances as they lost 3-1 to Juventus on Wednesday but won a thrilling tie 4-3 on aggregate.

Juventus looked to have staged a stunning revival to force extra time after Mario Mandzukic scored twice in the first half and Blaise Matuidi added a third on the hour mark after a goalkeeping clanger from Real's Keylor Navas.

The goals cancelled out Real's resounding 3-0 win in Turin a week earlier but Lucas Vazquez won an injury-time penalty and Juventus goalkeeper and captain Gianluigi Buffon was given a straight red card for venting his fury at English referee Michael Oliver.

Juve's substitute goalkeeper Wojciech Szczesny came on but Ronaldo blasted the ball beyond him to send Real into the semi-finals for a record-extending eighth season.
Buffon slams referee after late penalty, red card
Gianluigi Buffon harshly complained against the referee for awarding a late penalty and sending him off in what was likely his final Champions League match on Wednesday.
English referee Michael Oliver called the penalty in the third and final minute of stoppage time, leading to Cristiano Ronaldo's goal that eliminated Juventus in the quarterfinals of the Champions League despite a 3-1 win against the defending champions at Santiago Bernabeu Stadium. Madrid advanced 4-3 on aggregate after having won the first leg 3-0 in Turin last week.
"It's a shame it ends like this," Buffon said in comments translated by Spanish media. "I was very close to the play. If you call a penalty like that in the 93rd minute, you are not a man, you are an animal. You have a trash can inside you, not a heart."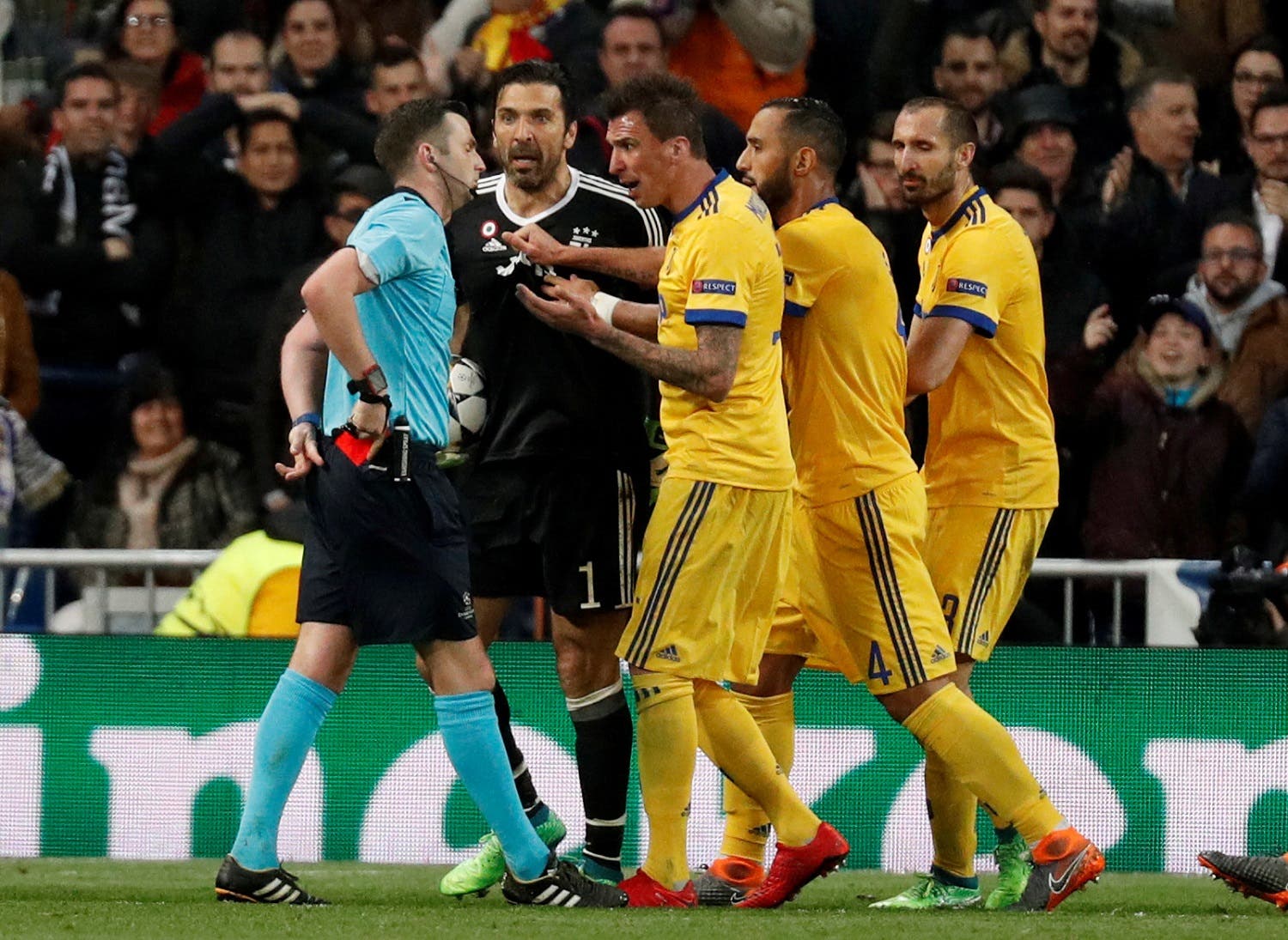 The penalty call came after Juventus defender Medhi Benatia tried to keep Lucas Vazquez from scoring from close range after Ronaldo headed down a ball back toward the area. Benatia came from behind Vazquez and appeared to push the forward while making a move for the ball.
"To referee in games like these you must be well-prepared," Buffon said. "If you don't have the personality, you are better off staying in the stands with your family and friends eating some fries. You can't destroy dreams like that."
Buffon rushed toward Oliver immediately after the call and quickly got into his face to complain, prompting the red card.
The Madrid crowd at Bernabeu gave Buffon a standing ovation as he left the field. Reserve goalkeeper Wojciech Szczesny came into the match but was not able to stop Ronaldo's decisive shot from the spot.
"It was an honor to leave the field applauded," the 40-year-old Buffon said. "I'm not sad, I'm proud of the way the team played. We leave with our heads held high."
Buffon had a good performance to keep Juventus alive until the penalty call. He made a great save off a close-range shot by Gareth Bale about 10 minutes into the match, and came up big again to block Isco's angled shot near the end of the half. He also stopped Isco's low strike from outside the area closer to the end of the match, just barely tipping the ball wide.
Buffon said in June that this would be his final season unless Juventus won the Champions League.

"We are sad for our captain," Benatia said.