Chechnya leader Ramzan Kadyrov granted honorary citizenship on Friday to striker Mohamed Salah at a banquet held to say goodbye to Egypt's World Cup squad.
The players adopted the Russian region's capital, Grozny, as their base for the tournament.
The Egyptian Football Association said the banquet was held at Kadyrov's presidential palace in Grozny.
It is the third time in two weeks the Chechen leader, a keen sports fan, has shown his admiration for 26-year-old Liverpool striker Salah.
Kadyrov attended Egypt's first practice session in Grozny on June 10. After watching for about 30 minutes, he drove to the squad's hotel where Salah, nursing a shoulder injury, was relaxing in his room.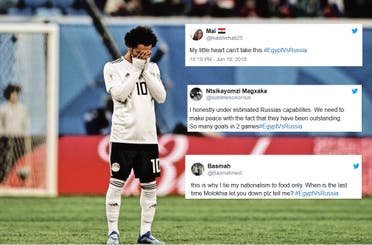 The Chechen leader asked Salah to accompany him back to the stadium, where the two posed for photos and greeted the 5,000 fans watching Egypt practice.
According to the FA, the Chechen "leadership" sent a large cake to the team hotel on June 15 to mark Salah's 26th birthday.
The squad are due to leave Grozny on Saturday for Volgograd, where they will play Saudi Arabia in their last group match on Monday. Both teams have already been eliminated from the World Cup.