Hundreds of thousands of ecstatic French fans celebrated the return of their World Cup winning football team on Monday, jumping and chanting "We Are The Champions" as their bus paraded down the Champs Elysees before a special presidential reception.

"Les Bleus", a dynamic, young team that won an open, fast-paced final 4-2 with Croatia in Moscow, appeared at the Elysee palace, where they burst into a spontaneous rendition of the "La Marseillaise" national anthem with President Emmanuel Macron and his wife.

"Thank you for having made us proud," Macron told the players in the presidential palace's gardens. "Never forget where you come from: all the clubs across France that trained you."

French media spent the day lauding the team's accomplishments.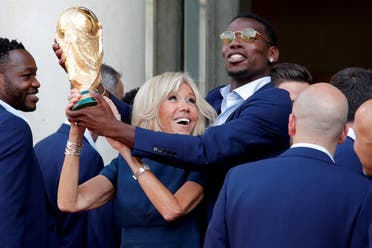 More than 300,000 people filled the Champs Elysees, the area around the Arc de Triomphe and the Place de la Concorde on Sunday night, partying into the early hours, singing the Marseillaise, setting off firecrackers and blaring horns until the sun rose.

"We had so much fun last night, the city was full of joy, so much celebration," a woman dressed in red, white and blue who had made her way out to Charles de Gaulle airport told BFM TV. "All we want is a wave from the players."

Newspapers hailed a second World Cup for France, after their first victory on home soil in 1998.

"History Made" declared sports daily L'Equipe. Photos of superstars Kylian Mbappe, Antoine Griezmann and Paul Pogba, as well as shots of the team holding aloft and kissing the trophy in the pouring rain, dominated coverage.

The victory has helped foster a sense of national unity, with commentators playing up the fact the squad, the second-youngest in the competition, includes many with central and North African heritage, even if all but two were born in France.

France has suffered years of tension and self-examination since a series of attacks by Islamist gunmen during 2015 that left more than 140 dead, including 89 killed in the Bataclan theatre in Paris. In some small way, the World Cup has helped lift the nation as it remains wary of the threat.

When France won its first World Cup 20 years ago, with Zinedine Zidane its talisman and playmaker, the team was referred to as "Black-Blanc-Beur" (Black-White-Arab), a positive reference to its diverse ethnic make-up.

But some were keen to put that phrase to one side, seeing in it a sense of separateness, even if it was meant positively.

"We're not in 1998," said Mounir Mahjoubi, the secretary of state for digital affairs, whose parents emigrated from Morocco.

"We're not still celebrating 'Black-Blanc-Beur', we're celebrating brotherhood," he said of the current team.