A team of 12 hard-of hearing females are ready to compete.
The recently formed group of determined female bowlers in Jeddah's Deaf Club have been practicing for competitions in the Gulf.
The group was assembled by President of the Deaf Club for Women (DCW) in Jeddah, and member of the Saudi Deaf Sports Federation, Faiza Natto.
Speaking to Al Arabiya English, Natto explained that the idea of a bowling team has been proposed for several years but that it lacked essential funding. Eventually the initiative gained traction from several people including al-Anoud Khaled Badr al-Aslab, one of the team's main donors.
The initiative also gained the likes of the hearing-impaired women at club. After sending out letters of approval to their parents, the bowling team was assembled and official training begun.
The team has several coaches, whom were met with great enthusiasm and determination. "Training sessions were scheduled once a week at the beginning to test its sustainability, but eventually it increased to three times a week," Natto explained.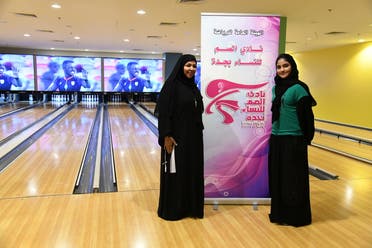 In the near future, the plan is to see a team ready to compete on a local and regional level says Natto.
The President of the Deaf Women's Club in Jeddah confirmed that the composition of this team was the first of its kind, stressing the great interest of the government as well as the country's private sector.
Natto also expressed a special thanks to the club's Chairman of the Supreme Council, and first supporter, Princess Nouf bint Miqrin bin Abdulaziz.
Jeddah's Deaf Women's Club was established in 2001 under the orders of the late Prince Abdul Majeed of Mecca.
The aim of a club is to create a healthy environment that will cultivate the member's psychological and physical health, and further encourage their social integration.