FIFA boss Infantino says will ask every country to name stadium in honor of Pele
FIFA plans to ask every country in the world to name a stadium in honor of the late Brazilian footballer Pele, the organization's President Gianni Infantino said on Monday.
The football icon, who won three World Cups and scored over 1,000 goals throughout his career, passed away on Thursday at the age of 82 after a battle with colon cancer since September 2021.
For the latest headlines, follow our Google News channel online or via the app.
"We're going to ask every country in the world to name their football stadiums with the name of Pele," Infantino, who was in Brazil for the funeral, told local reporters on Monday.
In April 2021, plans to honor Pele by naming Rio de Janeiro's Maracana Stadium after him were vetoed by the state governor at the time.
On Monday, Pele's coffin was placed at the Vila Belmiro stadium in Santos, the site of many of the athlete's most memorable goals during his career at the Brazilian football club.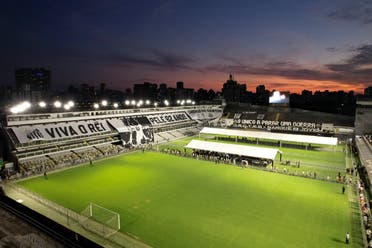 Infantino released a statement on the day of Pele's death, December 29, expressing his sorrow and condolences.
"For all of us who love football, this is the day we never wanted to see arrive," the FIFA president said. "We have lost Pele."
Infantino then went on to praise the legendary footballer as an "exemplary sportsman," adding that Pele "had a magnetic presence, and when you were with him, the rest of the world seemed to fade away."
"His life is about more than football. He changed perceptions for the better in Brazil, in South America and across the world. His legacy is impossible to summarize in words."
Speaking to local media on Monday, Infantino said: "I am here with a lot of emotion, sadness, but also with a smile because he gave us so many smiles. As FIFA, we will pay a tribute to the 'King' and we ask the whole world to observe a minute of silence."
Read more:
Fans line up to mourn Brazilian soccer great Pele ahead of his funeral
Pele, Brazil's football legend who charmed the world, dies at 82
FIFA investigating how celebrity chef 'Salt Bae' got onto World Cup final pitch