Barcelona crowned Spanish Super Cup Champion over Real Madrid in Riyadh
FC Barcelona claimed victory over Real Madrid in the Spanish Super Cup final match with a triumphant 3-1 win at the King Fahd International Stadium in Riyadh on Sunday.
Barcelona took the lead in the 33rd minute when midfielder Gavi scoring a precise goal before Lewandowski added the second goal in the 45th minute.
For all the latest headlines follow our Google News channel online or via the app.
Tensions were heightened in the second half of the match with Real Madrid playing catch up as Pedri advanced Barcelona's score with a third goal in the 69th minute.
Real Madrid's Karim Benzema scored a consolation goal during added time, bringing his team's score to 1 before the final whistle.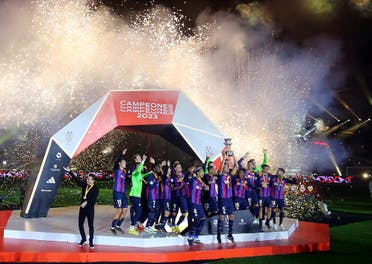 Thousands of fans flocked to the stadium in Saudi Arabia's Riyadh for the event – held as part of the second annual edition of Diriyah Season.
The Spanish Super Cup Championship in Riyadh saw football fans from across the Kingdom and the world come together to watch some of the greatest footballers go head-to-head.
In recent years, Saudi Arabia has held dozens of sporting events as part of its Vision 2030 plans to improve the quality of life in the Kingdom and develop sports and other non-oil sector fields.
Read more:
Al Nassr FC denies reports claiming Rolando deal linked to potential World Cup bid
Giants Real Madrid and Barcelona to meet at Spanish Super Cup final in Riyadh
Saudi football fans 'excited and proud' with Cristiano Ronaldo joining Al Nassr