From hijabs to boxer shorts, SpongeBob SquarePants custom-made merchandise has become a new phenomenon in Egypt, according to international media.
The cartoon marine sponge, found on cartoon channel Nickelodeon, is making ubiquitous appearances across the streets of Cairo, with SpongeBob and "SpongePop" variations of the character, which is down to western letter Bs often being muddled with Ps in Egypt.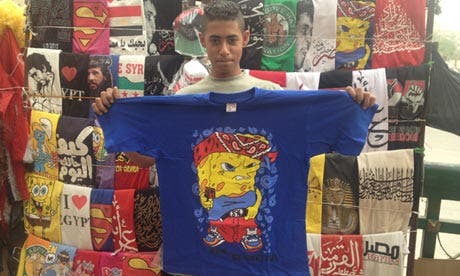 "Men would ask me for SpongeBob boxer shorts," stallholder Yasser Abdel Moneim told The Guardian this week.
Abdel Moneim now sells three different SpongeBob clothes designs to meet demand.
All are sourced from China, "including one that overlays the sponge with the unlikely logo of Calvin Klein," the newspaper reported.
SpongeBob's newfound fame has even led Vice magazine to question earlier this year: "Is SpongeBob SquarePants the New Che Guevara?"
"SpongeBob is a familiar sight in Tahrir Square nowadays," wrote Vice's Jared Malsin, in reference to Cairo's iconic square which became a symbol of the 2011 uprising that led to the ouster of former president Hosni Mubarak.
"The vendors in the square hawking Egyptian flags and shirts printed with revolutionary slogans almost always also sell SpongeBob-branded T-shirts.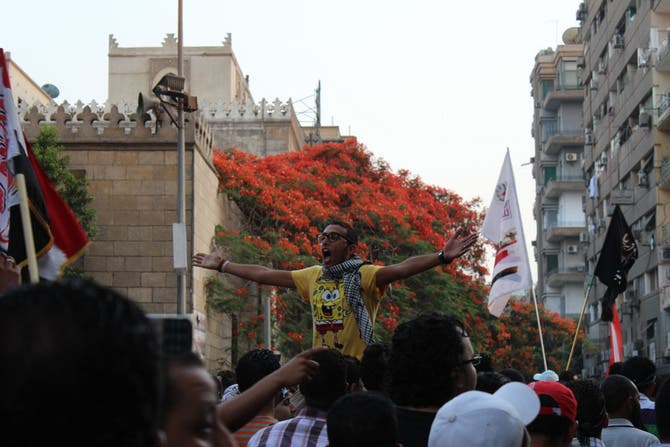 "The casual visitor to the square in early 2013 might even wonder if SpongeBob has become, like the ubiquitous Che Guevara shirts or the spooky Guy Fawkes masks made popular by the film V for Vendetta, a bizarre transnational pop culture symbol of resistance," Malsin added.
SpongeBob's images have even become as ever-present as images of revolutionaries who were killed during the uprising, particularly in Cairo, the newspaper reported.
The phenomenon has also prompted the launch of a new blog, SpongeBob on the Nile, by co-founder Elisabeth Jaquette, a Cairo resident who had returned from a year in America.
"I remember coming back in June 2012 and walking through Tahrir Square, where you used to see T-shirts that said "Egypt" and "Revolution." But that June, half the T-shirts were just SpongeBob," Jaquette told The Guardian.
Now, the phenomenon has spread, also popping up in Libya, where "Jaquette's blog memorably shows someone celebrating the Libyan revolution dressed as SpongeBob," reports The Guardian.
But the craze may soon fizzle out as the SpongeBob prints on every bit of tat may not be selling as well as they were in the past year.
"At the height of his popularity, Tahrir vendor Mostafa Hamed sold 30 SpongeBobs a week. But this week? Just three," The Guardian reported.
Still, protests in Tahrir Square remain popular among Egyptians, opening doors to new fads and vendors taking advantage of the crowds.