Two Mursis walk into a mosque. One comes within reach of the other, but much to the disappointment of the Egyptian president's lookalike, security guards block the rendezvous. It was seemingly never meant to be.
On Friday, Mohammed Mursi's doppelganger had attempted to meet the president after Friday prayers at a mosque in a Cairo district.
"Seemingly hoping the guards would make an exception for him due to the physical resemblance between him and Mursi, Ramadan al-Sohaji asked one of the guards forming a human shield to let him pass so as he can shake hands with the President," Egypt's Ahram Online news site reported, citing local media which filmed Sohaji's attempt.
But presidential guards surrounded Mursi, keeping Sohaji away, amid protests at the mosque as Mursi attempted to leave.
A video posted on the internet showed a woman blocking President Mursi's car and trying to give him a complaint. Protesters in the background shouted "Leave, leave."
Security forces from the Republican Guard scrambled to create passage for the Islamist president's convoy.
Mursi has been heavily criticized for ignoring opposition demands and trying to amass various powers on his hands.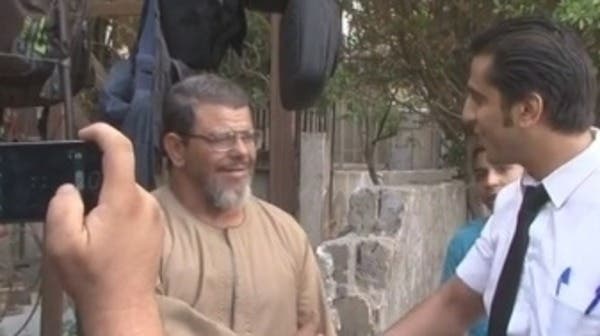 Sohagi, interviewed by Al Arabiya earlier this month, said that people often mistake him for President Mursi, which at times stirs up trouble for him.
When the lookalike recently decided to join a protest to show his support for Mursi, some protesters thought he was the president and carried him to a podium saying: "Look, the president is wearing a galabiya," a traditional Egyptian garment.
"I told them, 'I'm not Mohammed Mursi or his father. My name is Ramadan Sohaji. Please, I don't want to go to prison.'"
The resemblance between the two has led to Egyptians approaching Sohaji, a street vendor, and requesting that pictures be taken with him.
"I saw that Mursi looks like me. Later, I found out that he has a PhD, and he's an intellectual. I loved him, and decided later to vote for him," Sohaji told Al Arabiya.