An American singer and activist hopes that his new song, which was recorded in Baghdad, will spread a message of global unity.
"What if a great call for global unity rose from the streets of Baghdad, and spread around the world?" are the first words in the YouTube video introducing the song "Love, Make The World Go Round," composed and written by Stephan Said.
"When I told people why I was there - the idea that our generation's anthem for unity should rise from the ashes of its biggest conflict - everyone got on board. I hope it spreads across the globe with people joining in," he said.
The video shows Iraqis' desire to have normal lives and pursue their dreams, as well as artistic graffiti in Baghdad denouncing violence and calling for peace.
"Despite the real dangers, hundreds of people got involved. None of it is staged. It's a document of change, courage and collaboration occurring in real time," the singer said.
"There was a shot where I was dancing like Bollywood in Zawra Park. Since it's an open area, it was deemed very dangerous," he said.
However, "people were happy to see us filming there. They honked, waved their hands. They want to see life coming back to Baghdad."
The song ends with the words "what if it rose from your streets?" and the hashtag #lighttheworld.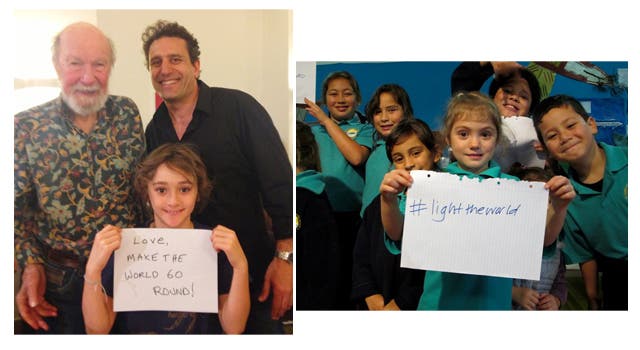 In response, renowned U.S. folk singer Pete Seeger posed in a photo with Said and a young American boy carrying a sign saying "love, make the world go round."
In another photo, Maori children from New Zealand held a sign saying "#lightheworld."
Said, who is of Iraqi and Austrian dissent, described his first visit to the country as "magical" and "emotional," adding: "I have many immediate family members who are in Baghdad and Mosul."
The international media gives an "outsider story" of what happened to Iraq, not "about the people's lives," he said.
Said has interviewed Iraqi youth for a forthcoming TV show entitled "difrent."
His "dream is to create a show that goes to a different city across the globe each episode."