Many of us are guilty of it, whether we like to admit it or not.
We block out the world around us, distantly gazing down at our phones. When asked, we usually say it's "something important," or brush off the questions with the classic: "I'll only be a minute."
And it's almost never a minute.
Whether anxiously waiting for an email to fully arrive into your inbox, or for that grainy Facebook photo to become crystal clear on your hi-spec screen – you could be "phubbing."
The term, as described by an online campaign and coined by Alex Haigh, a 23-year-old Melbourne resident, is "the act of snubbing someone in a social setting by looking at your phone instead of paying attention."
And campaigners, who have launched the global "Stop Phubbing" campaign, want to shame those who check their emails while on a date and people who would rather browse social media sites than chat with the friends sitting with them.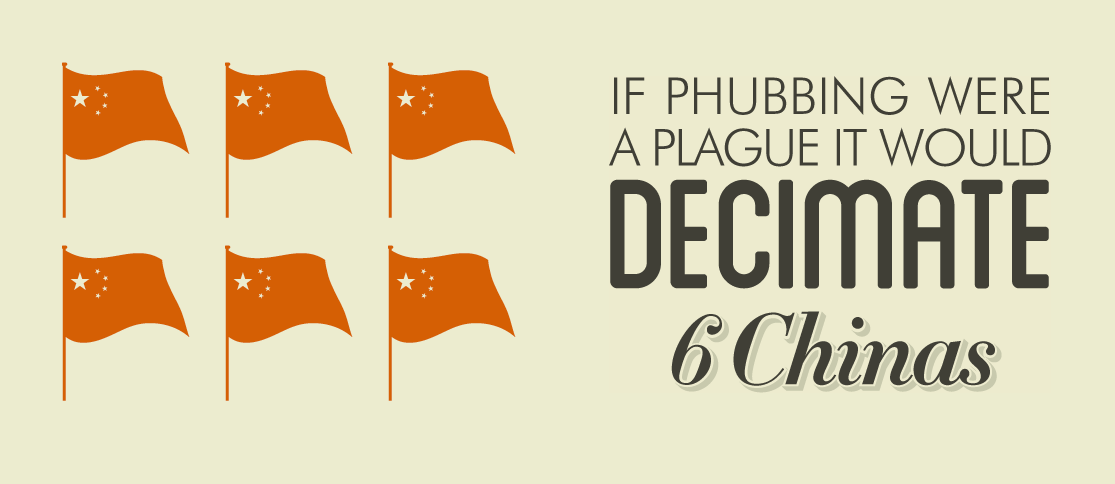 Dos and don'ts
For those who find themselves on the receiving end of a "phubber," it can get grueling. But the irony of the campaign is quite obvious.
"Stop Phubbing" gives phubbers the chance to bury their faces into their screens, read up on the campaign and perhaps even promote the cause through social media – isn't this phubbing all over again?
An article about the campaign in The Guardian puts it lightly:

"Do say: "Don't you hate it when people don't pay attention?'"

"Don't say: "Sorry, I didn't hear that, I just found this really funny website about phubbing.'"

According to the Stop Phubbing site the majority of phubbers use their phone to "make a status update, purchase music, play games and 'lol' at a joke that isn't yours."
The campaign's tongue-in-cheek approach has even further and created an email to stop phubbers for good, saying that offending parties "need to be told, scolded and sent to the naughty corner." The site also provides a "Phubbing Hall of Fame" for visitors to name and shame phubbers and upload their photos.
Warning to all phubbers: do not visit StopPhubbing.com on your mobile web browser, you will be met with a flickering admonition and told to sit down at the computer like a "normal person."
Among the satirical quirks, the campaigners provide a list of "Disturbing Phubbing Stats" that include:
• 87 percent of teenagers prefer to communicate via text than face-to-face
• If phubbing were a plague it would decimate six Chinas
• 97% of people claim their food tasted worse while being a victim of phubbing
• "92% of repeat phubbers go on to become politicians
The mission statement of the website adds: "Phubbing is rife throughout the world. Just imagine couples of the future sitting in silence. Relationships based on status updates."
Commercial benefits of phubbing
"This is just the start. Phubbing will increase significantly as internet usage on mobiles is growing much faster than desktops," says Tarek Daouk, the chief innovation officer at global media network Starcom MediaVest Group in Dubai.
"Globally, data packages are much better and becoming easier to sign up for, there are more mobile friendly versions of websites and apps.
"In terms of general internet usage on mobiles, I doubt there will be any force that will change or lessen our usage. Social media networks are playing a huge part in this and are benefiting commercially, with more ads."
The most recent example of this came after Facebook rose 1.5 percent to $38.05 on Friday in New York, a closing price not seen since the social-networking company's May 18, 2012, initial public offering.
"The milestone underscores Zuckerberg's recovery from one of the worst IPOs in a decade, with a mobile-ad business that's now on track to propel sales to more than $16 billion by 2017," reported Bloomberg.
Global mobile penetration was at 90 percent in the first quarter of 2013 and mobile subscriptions now total around 6.4 billion, according to Ericsson's Mobility Report this year.
In the Middle East, the percentage of mobile penetration stands at 109 percent of the population.
"In general, I think mobile usage will become more and more prevalent in the Middle East than in other markets. The region has a high youth population and mobile penetration is much higher, particularly in the Gulf," says Daouk.
In Saudi Arabia, the number of mobile subscriptions in the country stood at 53 million at the end of 2012, making the mobile phone penetration rate stand at 181.6 percent of the population, the kingdom's Communications and Information Technology Commission announced.
"Also, income per capita in some of the Gulf countries is high, allowing segments of the population to afford more advanced smartphones and subscribe to data packages,"
But the Middle East has two extremes, notes Daouk, with income per capita not being consistent throughout the region.
"In the Middle East you have one of the world's most poorest countries – Yemen – and the country with the world's highest GDP per capita – Qatar," Daouk says.
The phubbing test
"Several campaigns have been devised to promote "netiquette" – internet etiquette. But they just raise awareness, we hardly see a full effect," Saudi-based technology expert Khaldoon Said.
Sometimes, the battle for "netiquette" has even forced friends to test their temptations.
"I've been with a group of friends, who when they arrive at a restaurant, they put their phones on the table – all on top of each other. Whoever is the first to person who can't resist the temptation to check emails or surf the internet, would be the one who has to pay the restaurant bill," says Said.
"These user habits have evolved. Before smartphones, mobiles only used to be used for texts and phone calls. Now, it's becoming cheaper and more attractive to subscribe to data packages.
"With youth, BlackBerry Messenger and Whatsapp chat applications are taking over social lives. In Saudi Arabia for instance, most young people now have two phones, one for entertainment, the other for chatting. The "chat" phone is usually a Blackberry that does not have a touch screen keyboard – as it's easier to type," added Said.
But will "Stop Phubbing" and similar campaigns actually stem anti-social phone use?
"Mobile operators are always pushing for cheaper online services, whether for communication or for entertainment. Several mobile manufacturers are promoting their offering with the chatting applications.
"These mobile campaigns are endorsed by big players and are stronger than these 'netiquette' campaigns," added Said.