Despite promises made by Iran's new President, Hassan Rowhani, that women's civil rights will improve under his government, a city councilor has been barred from office for being "too sexy," British daily The Times reported on Wednesday.
Nina Siakhali Moradi was prevented from taking up a post on the city council in Qazvin, the ancient capital of the Persian Empire, 100 miles north west of Tehran, after her election was overturned by religious conservatives.
Even with more than 10,000 votes in the June election, putting her 14th out of 163 candidates and winning her a council seat, the 27-year-old engineer and website designer had her political career cut short because she was deemed too attractive to take up the post.
"We don't want a catwalk model on the council," a senior official in Qazvin told local press.
Moradi ran under the slogan "Young ideas for a young future," pushing for better women's rights in Qazvin, the restoration of the old city and greater youth involvement in town planning. She had been vetted and approved as a candidate by Iran's judiciary and intelligence services. Her liberal views appeared popular with the electorate, The Times reported.
Moradi's campaign posters showed her wearing strict hijab without a strand of hair on display. Despite this, conservative religious groups launched protests to demand her disqualification as soon as her election was confirmed.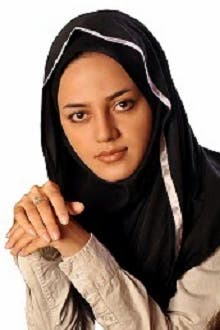 In a letter to the governor of Qazvin, a coalition of religious groups condemned the "vulgar and anti-religious" posters and said they breached Islamic law.
News website IranWire reported that there were other objections to her campaign. According to the website, her headquarters became a gathering place for local young people, whose behavior and clothing provoked criticism from her opponents, mostly older conservative men.
The complaint was challenged but ultimately upheld. She was disqualified for not "observing the Islamic norms."
Citing local media, IranWire reported that authorities had also confiscated the campaign posters of two other female candidates, Maryam Nakhostin-Ahmadi and Shahla Atefeh, and detained both for questioning.
President Rowhani is expected to bring a new era in women's rights. In a televised debate during his election campaign, he announced: "I will form a women's affairs ministry to return their trampled rights to them."