A Saudi man, weighing approximately 610 kg (1345 lbs), was airlifted by Saudi Civil Defense on Monday from his house in the Saudi city of Jizan to the capital Riyadh where was operated for extreme obesity.
Khaled Mohsen Shaeri, in his twenties, was operated at King Fahd Medical City in Riyadh to remove 80 kg (176 lbs) from his stomach after he became unable to walk.
Saudi King Abdullah bin Abdulaziz earlier this year ordered the health ministry to provide full medical treatment for Shaeri but medical officials said they didn't have the means to move him.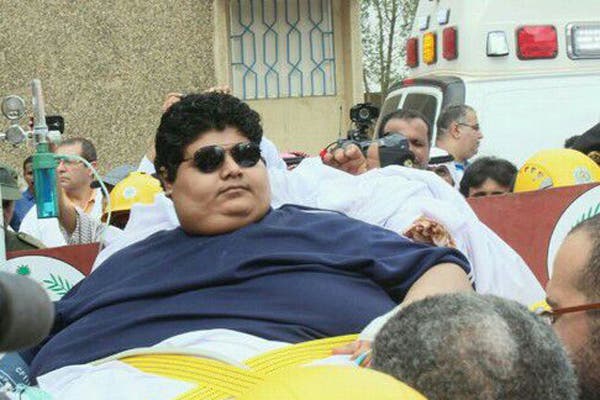 A special bed and a crane were ordered for him from the United States, Saudi media reported.
Shaeri's weight severely increased due to health problems, Sabq newspaper previously reported.
The newspaper quoted a medical official as saying that "a health team which has visited him recently described his condition as exceptional and that they had not seen like it before."
Ayed al-Qahtani, Obesity surgery Consultant, told Al Arabiya that procedure "was mixed with feelings of fear and joy."
"Despite the development of a deliberate plan one must still expect the worst," he said. "Our colleagues were in touch every five minutes during the process of transfer. They were updating us after passing each stage until they reached to kind Fahad Medical City," al-Qahtani added.