A Facebook page promoting a "National Kissing Day" in Egypt on August 30 has taken cyberspace by storm, despite the country's state of national turmoil amid recent deadly violence.
Over 4,000 Facebook users have said they will attend the event, according to a report by Egypt-based Ahram Online earlier this month.
The page, which was reportedly launched on August 10, did not specify how it wants Egyptians to celebrate the day.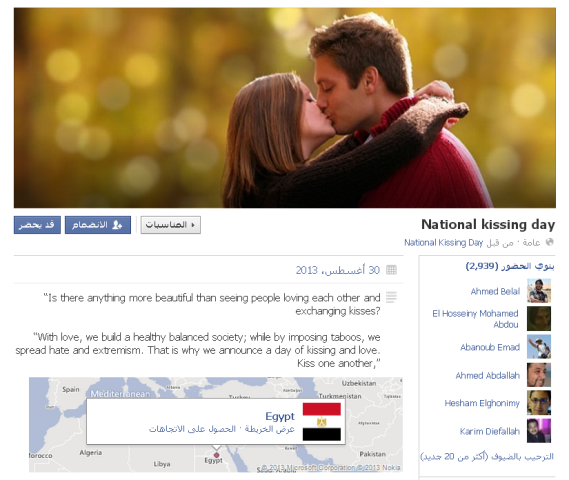 "Is there anything more beautiful than seeing people loving each other and exchanging kisses?" the description of the event on Facebook states
"With love, we build a healthy balanced society; while by imposing taboos, we spread hate and extremism."
The event was seemed to be mostly welcomed by younger Facebook users, according to local reports.
But the original page calling for the event is no longer available on the social networking website. It is unclear whether the creators have deleted it or if the page was removed by the site.
The site says on its official Page Terms that they reserve the right to reject or remove pages for any reason. Page removal can also occur after users report the page for violence and harmful behavior, spam, sexually explicit, hate speech or for harassing someone. Facebook Support teams located in various locations then assess the claim to determine the page's removal.
Many other pages calling for the National Kissing Day in Egypt event and condemning it have appeared on Facebook.
The original page did not specify a location for the event, leaving it up to each governorate to decide.
As a result some pages specific to various cities in Egypt were created like, National Kissing Day in Tanta or National Kissing Day in Alexandria.
One of the page created by Facebook user Adham S.Shdeed calling for the event to take place in Tanta reads "This day will not display any lack of manners, it's a day of love between friends, families and loved ones. We need to show that we are good people not like these savage sexual harassers."
The page's event has more than 200 attendants while National Kissing day in Port Said has 800 "likes".
Reactions on the social media sphere were marked by irony and question marks, one user @Copticoner wrote on Twitter "This is silly- A husband & wife can't even hold hands in public and u want them 2 kiss?".
Another tweep @AbeerEtefa wrote "This is what #Egypt really needs now LOL", [email protected] called for the event to take place in Rabaa al-Adawiya square, as a joke, referring to where religiously conservative Pro-Mursi supporters held their sit-in.
Said Sadek, a political sociologist who appears in various local news programs told Al Arabiya that the reactions to this event are an eye-opener for self-reflection on "why violent discourse prevails and calls for love get mocking and dismissal as alien to our culture."
The analyst also said that the national kissing day event is raising questions about why calls for sabotage, burning churches and killing others have an echo while any calls for love whether shaking hands, exchanging greetings or kisses or hugging are condemned.
"It won't work in most of the places in Egypt at this time for various cultural and religious factors," he said.


Anti-Kissing Reactions
Many comments on the various pages calling for the event to happen have condemned the call to stage a Kissing Day in Egypt asking people to ask god for forgiveness, some other left inappropriate comments.
Over five "Anti Kissing Day" pages have been created, Facebook user, Saleh Saw, the creator of an Anti-National Kissing day event wrote on the page that the original Facebook page calling for the nationwide event has been closed because the many users reporting the page
"Thank God, Egypt is still in good hands," he wrote.
The Facebook user told Al Arabiya that he created the event because both Islam and Christianity forbid the practice of kissing in public or outside of marriage.
"We live in a conservative society and our morals and traditions do not allow us for this kind of behavior," he said.
He also added that the people who created this event want to copy the international day, celebrated on July 6, and are ignorant for thinking that following other countries by doing things against religion will bring freedom.
Public display of affection is frowned upon in Egypt and kissing can also be considered a violation of the law according the Egyptian penal code, Article 278 which criminalizes "scandalous acts" in public.
But not everyone opposed the call for a National Kissing Day in Egypt for religious reasons, many saw it as unrealistic and a possible trigger for sexual harassment, a widespread problem in Egypt.
Passant Rabie, a 26-year old Egyptian told Al Arabiya that she accidentally confirmed her attendance on the page and immediately received an inappropriate comment from a stranger on her page.
"I think that goes to show how unwarranted this event is because there are so many issues we need to work on regarding sexual harassment and gender roles before we call for a kissing day", she said.
Even though she thinks everyone should be free to call for any event they want, Lamia Hassan, a 27-year old freelance filmmaker thinks there is a long way to go until events like these can take place in Egypt.
"We should try and fix some of the main things first before we can have the luxury to enjoy such events".
Last May, about 200 people staged a kissing protest in in Turkey, after authorities reprimanded a young couple for kissing in the street.
The local press reported that the protest was attacked by Islamists.
The Egyptian penal code criminalizes "scandalous acts" in public spaces. If found guilty, defendants could face up to a year in prison or pay a fine of maximum LE 300, Ahram Online reported.