A polish woman who allegedly plans to visit Egypt as part of a global shuttle tour which aims to 'break a record and have sex with 100,000 men has caused a stir on social media, with Islamists blasting her as "dirty" and "unwelcomed" in the country.
Ania Lisewska, 21, first made the world journey announcement on her Facebook page, which has about 60,000 likes.
"I want men from Poland, Europe and all around the world. I love sex, fun and men," Lisewska said, according to her Facebook page.
Lisewska said she begun the sex marathon last month from Warsaw and plans to travel to other countries as soon as she is done with Poland.
"I will visit every city in Poland and when I've done all of them, I will start travelling abroad," according to her Facebook page.
In the Middle East and North Africa region, Egypt appears to be Lisewska's first favorite stop.
Arabic internet news outlets, such as Erem News, al-Bawaba, Arabuem, and Dostor.org, all reported that Lisewska will be received in Cairo by a person identified as Mohammad Abdel Moneim and said to operate a hospitality firm in Cairo.
Erem News quoted Abdel Moneim as saying that Lisewska expressed interest in visiting Egypt "because of the country's international acclaim, beauty, and the virility of its men."
There was, however, no confirmation on when she intends to visit Egypt.
In her Facebook page, Lisewska said: "The fun will take about 20 minutes per person, depending on how many people there are on each day."
Al-Bawaba quoted her as saying that she has so far made sex with 284 men and she needs to dedicate 33,000 hours, or 3.8 years, to complete the mission. That's if she works day and night, seven days a week with no breaks or food.
Politican undertones
Egyptians, bitterly divided by politics, appeared on social media further split over Lisewska.
One Facebook user, with a profile picture of the famous yellow Rabaa hand sign, wrote that the Egypt is not open to "prostitutes." The yellow hand sign indicates that the user is pro-Muslim Brotherhood.
But another user lamented her planned visit as late, saying if she had gone to Egypt a month before she would've found plenty of "opportunities" at Islamist sit-ins in Rabaa al-Adawya and Ennahad squares, before these were cleared by authorities. By the word "opportunities," the user appeared to be referring to the thousands of bearded Islamists who, among others, camped out in the squares for about two months.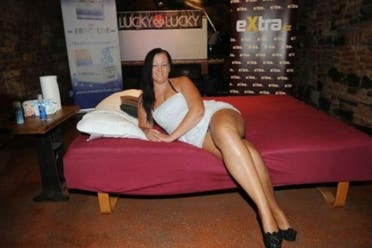 Political undertones were clearly prevalent in the exchange of comments between Egyptian users.
A user with a profile picture of General Abdel Fattah al-Sisis wrote that he would welcome Lisewska and is ready to help her achieve her goal and "do more."
"Despicable like your master," replied another user, who appears to support ousted President Mohammad Mursi.
One article on Erem News had 200 comments, with some users even posting their mobile phone numbers.
One user said: "The comments of pro-Mursi users are the best, they again pretend to defend religion when in fact every one of them has done the dirtiest acts…and the proof is that they are actually here reading this dirty story."
But a user of the profile picture of ousted President Mursi replied by saying: "So what if someone reads the article, we are not watching porn movies here!"
Some users called on the tourism minister to interfere and make a statement, because Egypt's national security is at stake.