Former British Prime Minister Tony Blair is on a global tour boarding a £30 million ($48.4 billion) private jet, it was reported on Sunday.
The millionaire minister, who is now, has been reportedly using a bespoke aircraft, dubbed by the British media as "Blair Force One," during visits to places such as Switzerland, New York, Ukraine, Israel and Bangkok
The 19-seater jet, which features a stateroom, lounge, kitchen and a bed, can cost £7,000 for every hour it is in the air, The Sunday Telegraph reported.
The plane, provided by Bombardier Global Express, has a luxurious interior, including leather seats and walnut paneling, the newspaper said
"It is the most luxurious, most accomplished business aircraft ever built, accommodating the desires of the most sophisticated and demanding traveler with no compromises," the Bombardier website said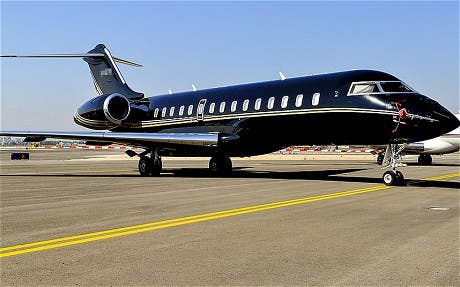 The Global Express jet allows the prime minster to fly around the world for 13 hours non-stop
Blair, who now travels the world in his new roles as business consultant and public speaker, has previously enjoyed travelling in private jets paid for by dictators such as Colonel Muammar Qaddafi.
The Sunday Telegraph has previously disclosed how Libya's Qaddafi sponsored Blair's trips to Tripoli on at least two occasions in 2008 and 2009 on private jets, before his overthrow.
However, the owner of "Blair Force One" is an unnamed businessman, according to the newspaper.