After flashing her pearly whites for Facebook, and posting images to reveal her fashionista tendencies on Instagram, Syria's First Lady Asma al-Assad is now looking much more solemn.
Once described as "rose in the desert,"Asma has been a major focus for observers of the Syrian conflict, who are increasingly questioning her "rosy" qualities.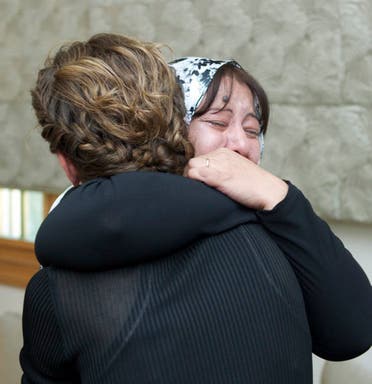 On Tuesday, the Syrian presidency's official Facebook page published photos of Asma she paid her respects to families who lost relatives in the ongoing conflict.
Dressed in black to visit the mourners, the First Lady appeared in one of the photos holding a young boy's arm. The caption of the photo read: "First lady Asma al-Assad has so far reached out more than 4,000 families (who have lost a relative)."

Another photo showed Asma hugging the wife of a "martyr" named Imad Eddine Salah al-Obeid. Another showed her with the parents of the deceased, Omar Sayah al-Mgheer, according to the captions.
While it hasn't been confirmed, some of the dead are believed to be soldiers fighting against the Syrian opposition.
The pictures come after Asma was criticized for bombarding the official Syrian presidential Instagram account with photos showing her waving to cheering crowds, visiting hospital patients and meeting with officials.

Commenters described the First Lady as fake, expressing anger at her attempts to overtly show her living a somewhat "normal life," in which her formalities went on amid the conflict.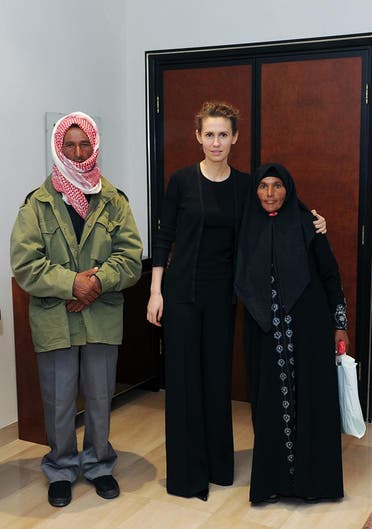 For one woman who once worked with Asma, the new images of the First Lady dressed in black could be her latest attempt to show compassion.
"She's always wanted to appear dressed up in nice clothes and put herself in the spotlight, away from the Syrian masses," Middle Eastern media analyst Dr. Halla Diyab told Al Arabiya News.
Several years before the Syrian uprising erupted in 2011, Diyab worked as producer with Asma on a documentary project about Syrian youth.
"Back then, I was told to cut out scenes of Asma that showed her displaying too much emotion. Her image has been greatly controlled by Syrian protocol," Diyab added.
"Now, Asma is changing. We now know more about the complexities of the Syrian regime and the ruling family. She's gradually lost the legacy she created as First Lady and has distanced herself even more from the people.
"She is now trying to get closer to the public. She's embracing crying mothers, visiting hospitals and wearing simple clothes," says Diyab, as seen in the presidency's Facebook post on Tuesday.
"The question is: how genuine is all of this?" asks Diyab.
Not so picture perfect
Asma was criticized last month for her splurges on luxury items.
The UK's Daily Mail revealed the First Lady's habits of ordering Western food for her children, purchasing a $450,000 chandelier last year and posting pictures of herself wearing fitness accessories.
"Asma has no heart. She is obsessed by how chic and beautiful she looks. She continues to lead a life of utter luxury. That's all that matters to her," Ayman Abdel Nour, a former adviser to Bashar al-Assad told the newspaper at the time.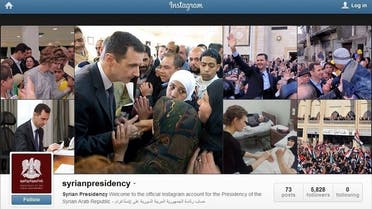 Along with the social media offensive, the past month has seen Assad giving an array of exclusive interviews to multiple international news outlets.
Analysts believed the amplified social media activity and interview blitz has been a part of Assad's campaign to win over supporters, particularly amid recent threats of a U.S. military strike on the regime.
The presidential account on Instagram has been condemned by the U.S. and described as a "despicable PR stunt" by the State Department, when pictures were first posted of Assad visiting hospitalized war causalities.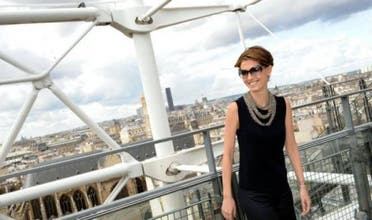 Social media users have been leaving angry comments in response to Asma's picture posts.
"I love ur designer clothes and shoes... paid for by the blood of your people! Seriously, u make Marie Antoinette look like an angel compared to you!," wrote one Instagram user.
"Look at the devil in disguise" wrote an anti-Assad user on Twitter. Another tweeted saying "nothing Bashar or Asma can do will wash the bloods covering their hands"
More than 115,000 people have been killed in Syria since March 2011, the Syrian Observatory for Human Rights has said. Ultimately, the PR charms that the Assads appear to be using have little hope of masking the macabre images and videos coming out of the war-torn country.