Cecilia Attias, the ex-wife of former French President Nicolas Sarkozy, rebuked late Libyan leader Muammar Qaddafi and told him "don't stand so close to me!" during a 2007 visit to Tripoli, according to Attias's newly published book "A Need for Truth" (Une Envie de Verité).
Attias went to Tripoli to secure the release of six Bulgarian nurses who were on death row for reportedly injecting children with HIV at El-Fatih Children's Hospital in Benghazi.
After arriving in Libya on the "lonely" diplomatic mission, Attias tells of being driven to an underground bunker in Tripoli and locked in a room.
Shortly after the door slammed shut, Qaddafi walked in.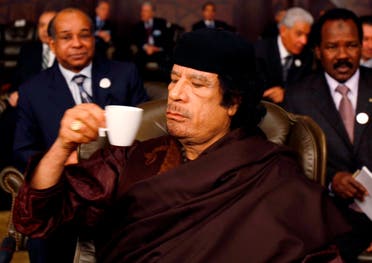 Attias described the Libyan leader as "this decrepit former athlete with a puffy face, obviously tired and looking like a second-rate actor in a second-rate production."
She then started to berate Qaddafi before he could open his mouth.
"Are you at all aware of how I have been treated? And don't stand so close to me!" she told him, adding that if anything were to happen to her, he would have the international community to answer to, France 24 reported.
After talking with Qaddafi, Attias said that she realized that his government and son, Saif al-Islam, was responsible for blocking the release of the prisoners, rather than him.
Qaddafi then told Attias that wanted to invite her husband, Sarkozy, to Tripoli. She replied by telling him that Sarkozy would not visit unless the prisoners were released. An "angry" Qaddafi replied: "I want to give them to you. There, you can have them. Are you happy now?"
Both Sarkozy and Saif al-Islam later denied reports that a major arms deal was behind the release of the nurses.