Dressed tip-to-toe in black with a hijab attached to a svelte jumpsuit, R&B star Rihanna shocked fans on Friday after photos posted on social media networks showed her posing at Abu Dhabi's Sheikh Zayed Grand Mosque.
Rihanna performed on Saturday in Abu Dhabi as part of her Diamonds World Tour.
Angry fans wrote comments at the photos posted to the "Rude Boy" singer's Instagram account.
"Rihanna modeling in the Sheikh Zayed mosque is just plain wrong. Who let her in?" said Instagram user BinttAlthee.
Twitter user Ahmedcarter was angered by her posing outside the mosque with shots of her lying down and wrote, "Rihanna pics at Sheikh Zayed mosque are disrespectful to the place of worship."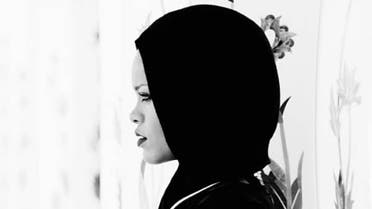 Although the country's largest mosque is a popular tourist attraction, visitors are required to respect the dress code which includes women wearing the abaya and covering their hair.
But not all her fans condemned the shoot, as many saw that her outfit fit within norms of decency.
"I don't see how Rihanna posing adjacent to a mosque in Abu Dhabi is disrespectful. If anything she's showing respect by supporting the hijab," wrote mila_iggy on Twitter.
Last month, the pop star outraged many of her followers after tweeting that she had attended a sex show in Thailand.