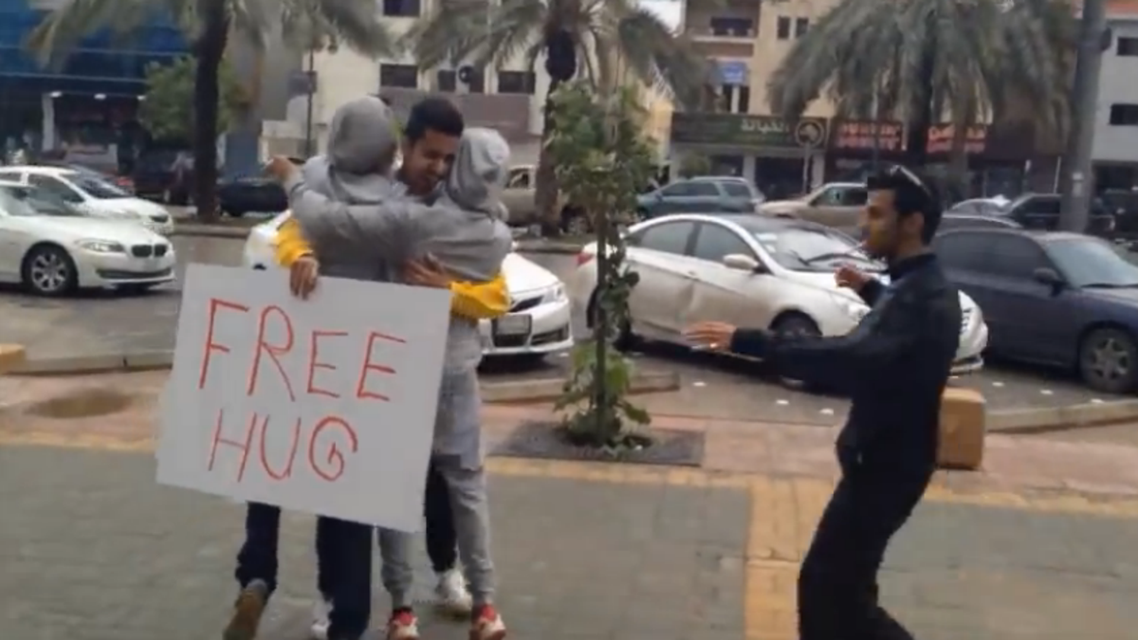 Police arrest 3 in Saudi 'Free Hugs' campaign
The "Free hugs" campaign started in the kingdom after a video went viral on YouTube
A boy was arrested in Saudi Arabia on Friday after taking part in the "Free Hugs" campaign that has seen some Saudi men take to the streets to offer up a hug to passers-by.
Arrested in the city of Madina, the boy, who was identified as a minor by the police, was holding a banner inscribed with the slogan "Free hugs" and was allegedly offering hugs to people near a local hospital.
Police told Al-Hayat daily newspaper that another man promoting the campaign evaded arrest.
Also, two men were arrested in Riyadh on Thursday for offering free hugs to passers-by in the capital.
Members of the Commission for the Promotion of Virtue and Prevention of Vice arrested the two men in Riyadh for violating local laws and engaging in "exotic practices," al-Hayat newspaper reported. They were asked to sign a pledge that they would not partake in the campaign again, according to the newspaper.
The "Free hugs" campaign started in the kingdom after Bandr al-Swed, a young Saudi man, released a video of himself marching in the streets of the capital Riyadh offering free hugs to people.
The video has received nearly 1.5 million views on YouTube