Vodafone Egypt under scrutiny over advert's 'terrorist' links
A popular cartoon starring Vodafone's advert is accused of delivering hidden terrorism messages
Vodafone Egypt, the largest mobile phone company in the country, has come under investigation on Wednesday over an advert starring a popular cartoon character accused of delivering encoded messages to an imminent terrorist attack.
Egyptian state security prosecutors opened the investigation into Vodafone's alleged "dangerous" commercial following a complaint by an activist known as Ahmad Spider.
Spider told a television talk show that Egypt's lovable cartoon character Abla Fahita was used as a "spy" to deliver hidden messages to a terrorist attack that would take place after Christmas possibly in a mall.
The Vodafone ad features the Egyptian puppet character, which previously starred a series of comedy videos on YouTube and has more than 91,000 followers on Twitter, searching for a SIM card that belonged to her deceased husband.
In line with the commercial's story script, the puppet mentions the words "mall security guard" and "police dog."
Khalid Hegazi, head of the foreign relations firm at Vodafone, dismissed the accusations as "absurd," saying any commercial can be interpreted in various ways, Egypt's al-Masry al-Youm newspaper reported.
Hegazi said the state prosecutors will question Vodafone's representatives on Wednesday, saying that "a commercial should not be interpreted as such."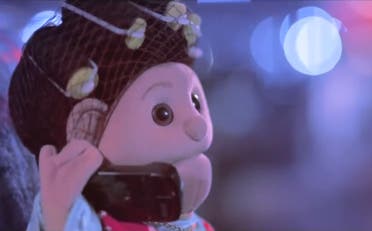 Satire on social media
The investigation into the cartoon's alleged terrorism links prompted a wave of satirical comments on social media, with many expressing laments about a state of paranoia characterized by an abundance of conspiracy theories they say Egypt is entangled in.
"If you can't beat them, laugh at their silliness and irrational actions," one twitter user wrote.
Bassem Youssef, the popular television satirist who had his show suspended after mocking Egypt's military rulers, said on Twitter: "We shall return to regain the right of Abla Fahita."
One twitter user, @MayadaaMostafa, complained that the investigation into Vodafone's advert will hurt foreign investments in Egypt.
"After this foolishness concerning Abla Fahita…any respected company that comes to work in Egypt, crazy people will come against it this way," @MayadaaMostafa wrote.
Another twitter user, @Sarah_Othman, wrote: "The problem is not in the investigation case. The disaster is there are many people who believe the conspiracy. We deserve more."
Some social media users circulated pictures of people they claim made the cartoon advert for Vodafone. The individuals appeared in a group photo raising the four-finger sign of Rabaa in a support of ousted President Mohammad Mursi.
"It is impossible that all the signs and awkward words are just a coincidence?? The words are unclear and have no explanation and are unlike the casual Egyptian slang talk. It is very clear that the words are suspicious," one person commented on an Egyptian newspaper's website.
"Terrorism is pervasive in companies that deal directly with the public. We request the National Security to be familiar with these tricks, and beat with an iron fist, those threatening the security of the nation," another commenter wrote.
Vodafone, the world's biggest mobile operator by revenue, has been operating in Egypt since 1998 and is considered the leading mobile operator in the country in terms of subscribers.