'Madame Bomba' shakes Beirut with mock suicide vest
Rima Najdi responds to Beirut bombings with tinge of black humor
"If suicide bombers looked like you, I would love to die," a man tells Lebanon's performance artist Rima Najdi as she roamed Beirut with a mock TNT bomb costume designed by fellow artist Rayya Kazoun.
While Lebanon shed tears after deadly holiday bombings, 28-year-old Najdi decided to handle things with a tinge of black humor. She took to the streets of Beirut last Sunday, donning an all-black ensemble with a contrasting, cartoonish mock bright red dynamite costume.
Days upon returning from Germany to spend the Christmas holidays with family and friends, Najdi was among many who have heard the sinister sound of a suicide bomb that shook the downtown area in Beirut.
But when another one took off in the predominantly Shia area of Dahiye one day after New Year's eve has passed, the young artist decided to visually demonstrate her thoughts and her fear of "dying at any moment."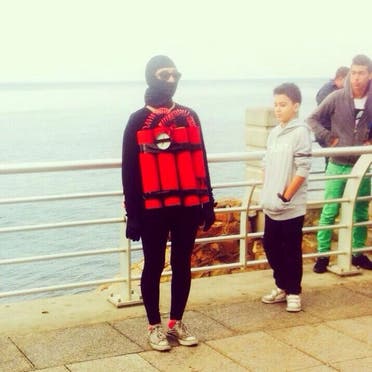 Najdi made her presence felt in the Hamra district, Ain el-mrayse, Gemmayze as well as Downtown Beirut, next to the site of the late December blast that killed Sunni politician and potential Prime Minister Mohamad Chatah.
"Reactions varied greatly," the young Berlin-based artist told Al Arabiya News. "People thought it was a hidden camera prank, others were shocked and did not appreciate the idea, but snapped photos of me anyway."
She said her gender might have helped spare her potential harsh public reaction.
"Gender role is very predominant, and people will always react according to this, no matter what you try to do," she added.
The six-hour street walk of "Madame Bomba TNT Project" was one of her most attention-grabbing performances up to date. "The social media craze over my performance seems to be giving me material that will help expand my project," she said.
Twitter user @HishamWyne remaked: "Rima Najdi is walking around the streets of Beirut dressed in a suicide bomber costume. Very cool, but kinda risky."
"This artist is great! Rima Najdi Roams The Streets Of Beirut With a TNT Bomb," remarked another user, @MariyaKhattab.
The young woman returned to Berlin shortly after her performance on the capital's streets, welcoming all sorts of remarks as part of feedback and "good exposure" for her upcoming projects.
"I was surprised to draw this sort of attention, especially through the mere act of provoking people and building on their reaction." Accompanied by friends and artists Maria Kassab, Sandy Chamoun, Roy Dib and Dana Dia, Najdi's performance was therefore easily documented with audiovisual aid.
With her current Facebook page called "The TNT Project: A public intervention", Najdi, who describes herself on the group as a "mobile dynamite roaming in the streets of Beirut" also sparked the interest of people from Algeria, Turkey and Yemen who have outspokenly expressed their opinions on the platform as well as on twitter. "She's giving ideas to the terrorists," one commenter wrote.