Pope's Latin tweets attract more followers than Arabic tweets
Quis hoc crederet? Against all the odds, Pope Francis's Latin-language Twitter account is a roaring success
Quis hoc crederet? Against all the odds, Pope Francis's Latin-language Twitter account is a roaring success. It boasts 208,000 followers as of Wednesday - more than those following papal tweets in German or Arabic, while the Arabic account has 110,000 followers as of Wednesday.
Two months after former Pope Benedict XVI joined the social media site, enthusiasts of the ancient language asked him to open an account in Latin, with no real hope that it would have much success. The response stunned them, Agence France-Presse reported.
Latin is "an international language, a transnational way of communicating which is still very much alive," American priest Daniel Gallagher, a member of the team in charge of translating and posting the pope's tweets, told AFP.
For its fans, the Italic language embodies "virtue and nobility of expression", as well as "the ability to communicate across centuries," he added to AFP.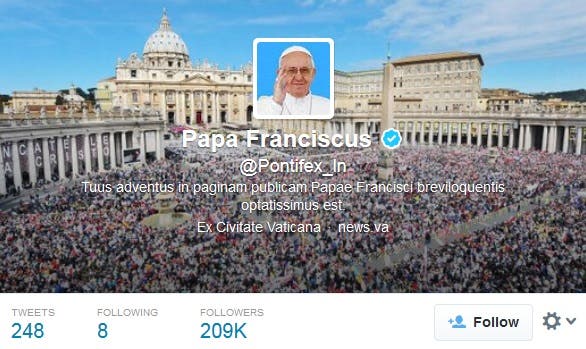 Latin is well suited to Francis' messages in terms of their brevity, however, his phrases are "difficult to translate, because his style is so informal," Gallagher said.
The expression "sourpusses" had the team flummoxed until someone thought to translate it as "vultu truci," a term taken from Roman playwright Plautus.
Gallagher and the team say they have fun coming up with inventive ways to translate the latest web-based jargon.

"Welcome to the official Twitter page of His Holiness Pope Francis" became "Tuus adventus in paginam Papae Francisci breviloquentis optatissimus est."

Isabelle Poinsot, a follower from Paris, said she found it "refreshing to read a small, pure thought each day" and found "the discrepancy between a modern medium and an ancient language rather amusing," according to AFP.
Followers of the twitter account, @Pontifex_ln, are not just nerdy professors or iPad-wielding priests. The largest cohort are German, followed by Britons, Americans and fellow fans from China, India and Africa, AFP reported.
"We have every reason to think that many are young students, from universities, schools or even younger," Gallagher said, adding that some use the tweets as homework, setting out to translate them.
Other followers simply get a kick out of translating a Francis phrase a day. Some get so involved that they reply to the pope's tweets in Latin.
Elitism also plays its part: "Some follow the pope in Latin because it's a way to create a group. They enjoy belonging to an unusual community, with its own code. If you are able to translate it, you are accepted into the club," Gallagher said.
"What we think of as a modern phenomenon is no such thing. The satirical epigrams of the Roman poet Martial could have been tweets, for their brevity, conciseness, frankness and humor," he added.
The Vatican launched the Latin section of its website in 2008 under Francis's predecessor Benedict XVI. The language is still used for the Holy See's most important official documents.
AFP reported that k nowledge of Latin was an unexpected asset for Italian journalist Giovanna Chirri, who had what was no doubt the scoop of her career in February 2013 when Benedict announced his retirement in Latin - and she was the only reporter who understood him.
(With AFP)