To strip or not to strip, Lebanon's Myriam Klink asks
Confused over whether to take the plunge for an 'important cause,' the model asks for public approval on her latest endeavor
Never wanting to disappoint her fans, Lebanese model-turned-singer Myriam Klink sent out an unusual request to the public on Tuesday, sparking speculations it was linked to a recent scandal involving Lebanese skier Jackie Chamoun.
Confused over whether she should take the plunge and pose "completely naked" in an upcoming photo shoot "for an important cause," Klink asked the Lebanese public to weigh in on whether they would approve – or not.
Klink's announcement, which she confirmed to Al Arabiya News as true, sparked speculations that the planned photo shoot is linked to the widespread support of Chamoun, who was filmed naked in a raunchy video leaked last week.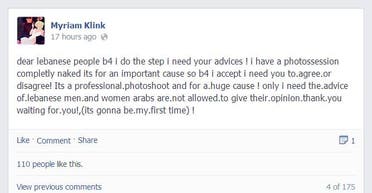 In a Facebook post, Klink wrote: "Dear Lebanese people b4 I do the step I need your advices! I have a photosession completely naked it's for an important cause so b4 I accept I need you to agree or disagree!
"It's a professional photoshoot and for a huge cause! Only I need the advice of Lebanese men and women. Arabs are not allowed to give their opinion. Thank you waiting for you! (it's gonna be my first time)!" [sic]
In a statement to Al Arabiya News, Klink denied the photo shoot is linked to Chamoun.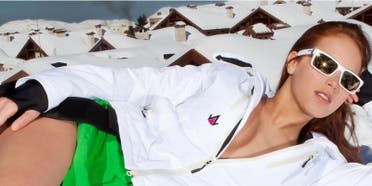 "No it does not have to do with Jacky in any way! It is for an important cause but I did not accept yet," the model said on Wednesday.
Chamoun's video was shot behind the scenes of a calendar photo shoot in the past; however it resurfaced during the skier's participation in the Sochi Winter Olympics and has won bottomless support from Lebanese women.
While it remains unknown what Klink's "important cause" is, sources close to the model have told Al Arabiya News that it may be an animal rights campaign.
The model has previously stirred controversy over her provocative wardrobe and music videos.